Elevators & Escalators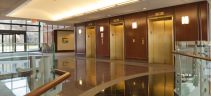 Talks between Ontario's elevator technician union and management cannot seem to get off the ground floor.
Having an emergency game plan within reach and ready to go is critical to helping disaster responders provide a fast, effective, and thorough response.

No one likes to think about disasters, but the reality is they happen. Being prepared and aligning with the right partners can be the difference between a quick response or a long and costly recovery.

Recognizing risks is important, but to be truly prepared, companies need to have a disaster plan in place to protect them before, during, and after an event.

Whether it's for safety, function or aesthetics, lighting has a big impact on how a property looks and operates. Recent advances in technology have allowed for enhanced lightning solutions that are both energy efficient and affordable

Neglecting and avoiding preventative maintenance can lead to equipment failure, expensive repairs or the need for complete replacement.

Two months after the Fort McMurray wildfires began, they were deemed under control thanks to the efforts of responders, including FirstOnSite Restoration.

In an age when everyone is looking for assurances, having a Business Continuity Plan will bring your clients and employees peace of mind.

Having your parking lot paved by a professional contractor will increase the life expectancy of your pavement, considerably reducing costs in the long run.
Upcoming Events
Association of Canadian Ergonomists Annual Conference
Monday, July 31, 2017 to Thursday, August 3, 2017
Banff, Alberta
IICRC 2017 Technical Conference
Wednesday, August 9, 2017 to Friday, August 11, 2017
Big Sky Resort. Big Sky, Montana
More Upcoming Events