Elevators & Escalators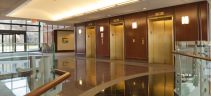 Talks between Ontario's elevator technician union and management cannot seem to get off the ground floor.
Fire sprinkler retrofits can minimize damage and save lives when upgrading older buildings that may have once been up to fire code, but are now outdated.

Neglecting and avoiding preventative maintenance can lead to equipment failure, expensive repairs or the need for complete replacement.

Whether it's for safety, function or aesthetics, lighting has a big impact on how a property looks and operates. Recent advances in technology have allowed for enhanced lightning solutions that are both energy efficient and affordable

Having your parking lot paved by a professional contractor will increase the life expectancy of your pavement, considerably reducing costs in the long run.

Having an emergency game plan within reach and ready to go is critical to helping disaster responders provide a fast, effective, and thorough response.

New funding models and innovative building techniques are expected to revolutionize the affordable housing sector in Canada.
Upcoming Events
Wood Design & Construction Solutions Conference
Tuesday, February 28, 2017 to Wednesday, March 1, 2017
Vancouver, BC
Commissioning Services Seminar 2017
Monday, March 6, 2017
North York, Ontario
More Upcoming Events