Federal government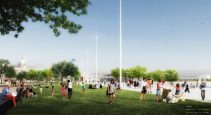 Canadian Property Management
A preliminary master plan for the Old Port of Montreal imagines a dynamic, mixed-use waterfront site with closer access to the St. Lawrence River.
Canadian Facility Management & Design
The federal and Ontario governments are working together to fund a rebuild of the North York Women's Shelter, which will receive $8.8 million in funding.
Construction Business
The Canadian Construction Association (CCA) sees the federal government's Budget 2017 announcement as a reiteration of previous commitments made to the renewal of Canada infrastructure.