Restoration & Renovation
Bob Finnigan, president of the Canadian Home Builders' Association, heads to Ottawa this week to talk to the feds about housing affordability.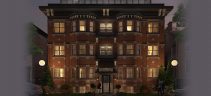 The entrance to the Pasadena Apartments may be one of few exterior clues as to the interior restoration that will transform the heritage-designated building.
Updating a building's common elements will bring new investors, new owners and new visibility in an ever-growing ...