co-working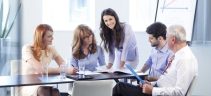 Canadian Facility Management & Design
Deloitte Canada recently reached an agreement to become the sole tenant of Spaces Granville, the new Vancouver outpost of co-working office space.
REMI Network
Spaces, a co-working firm, plans to open 15 more locations in Canada in the next two years. Its newest location in Toronto is 127,158 square feet, making it the company's largest location in North America.
Design Quarterly
The design industry has been at the forefront of constant change from materials to technology. Now shared workspace environments could be next big change.