Paperwork can pile up fast in the facility management industry. Between invoices, release forms, contracts, tenant messages, and other communications, property stakeholders will often spend a bulk of their day collecting and processing a high volume of paper. This not only reduces the focus from more meaningful tasks, but the time and space required to manage the abundance of documents ultimately makes document retrieval inefficient.
Cutting through this clutter is key to making the most effective use of a property manager's time. While many solutions have promised to do just that, few have proven more effective than going digital.
"Adopting scanning technology to digitize documents of all types is becoming an increasingly popular way for facility managers to overcome the clutter to increase productivity," says Steve Oblin, Senior Marketing Manager at Fujitsu Canada.
Process Automation: Scanning and uploading documents into central cloud-based storage allows property stakeholders to organize and retrieve specific documents quickly, without the need for manually sorting and searching.
Mobile Friendly: Through technology like Fujitsu's own iX100, users have the flexibility and convenience of scanning and accessing documents wherever they are.
Data Security: The ability to store scanned images in the cloud reduces the risk of loss or damage that would otherwise threaten physical documents in storage, or while in transit.
Easy to Share: Going digital provides facility managers with the ability to share information and documents easily between their clients and colleagues.
Room to Move: Scanning technology reduces the need for physical storage space and goes a long way towards trimming down office clutter.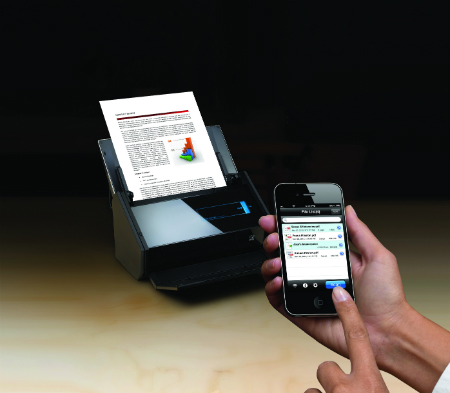 While the benefits of adopting scanning technology may be clear, some are still reluctant to learn a new technology. As with many modern office innovations, however, scanning technologies are designed with the user in mind.
"It's important for us that anyone, no matter their technical skills or experience, are able to easily learn and use this technology," says Steve Oblin. "With the ScanSnap, all you need to do is put your pages into the automatic feeder, press scan, and then send it to your preferred cloud storage provider. It's an easy process – which is important when you've got a full day."
Scanning technologies have a large role to play in the fight against office clutter. More importantly, however, is the role they can also play in bringing greater efficiencies, accuracies, and on-the-go document management capabilities to the facility management field.
Discover Fujitsu's ScanSnap iX100.
Visit www.fujitsu.ca for more info.