Despite rising supply in both primary and secondary GTA rental markets, tight market conditions persist according to the latest rental market survey from CMHC.
Driving the demand are millennials and newcomers to the city looking for temporary accommodations in favourable locales. Although some improved supply growth in the purpose-built rental market was achieved, the average apartment vacancy rate remained low at 1.5 per cent in 2019, up slightly from 1.2 per cent the previous year.
High homeownership costs coupled with tightened mortgage regulations have encouraged individuals to continue to seek, or remain in, rental accommodations. House prices continue to recover following unprecedented levels back in 2017, but remain elevated relative to previous years. Furthermore, prices of multiple-family dwellings (such as condominium apartments and townhouses), which are typically more popular among first-time homebuyers, have showed stronger price growth than other housing types over the past 12 months, thus pushing demand towards the rental market.
Average rents
According to CMHC, these tight rental market conditions allowed landlords to charge new tenants higher rents, and in turn, average rent growth in the GTA significantly exceeded the provincial guideline of 1.8 per cent for 2019. The average rents for the matched two-bedroom units on a year-to-year basis have been growing at an increasing rate. While this growth is predominantly driven by tight rental market conditions, a rising number of renovations may have also put some upward pressure on the average rents of existing units.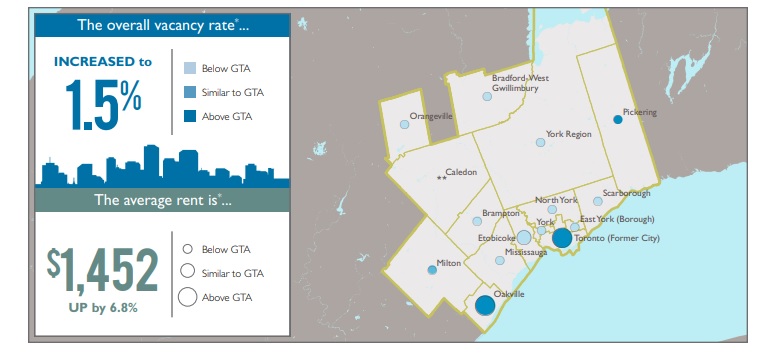 The number of newly completed purpose-built rentals (which typically charge higher rents) has also been increasing in recent years, which has contributed to the growth of average rents for the market as a whole. The turnover rate decreasing to 9.5 per cent in 2019 from 11.2 per cent in 2018 is indicative of existing renters remaining in their rental properties, likely influenced by the fact that recently the average asking rents charged for vacant units are about 25 per cent higher compared to that of occupied units in the Toronto market.
Key demographics
As stated, the primary sources of new demand for rental housing are newly formed households headed by younger age groups and migrants. As of October 2019, the population of individuals aged 25-44, a key demographic in the rental market, saw the strongest year-over-year growth in almost two decades at 4.9 per cent. This demographic cohort has also experienced significant year-over-year growth in full-time employment, which has enhanced their ability to enter the rental market.
Economic conditions in the GTA have been improving with broad-based employment growth across industries (particularly in the technology sector), rising average weekly earnings, and a low unemployment rate. These favourable economic conditions continue to draw immigrants and temporary workers to the GTA, which is helping to strengthen rental demand. Additionally, international students are on the rise, a cohort that has been growing faster in the GTA than other major Canadian metropolitan area.
Momentum in rental construction
Strong rental demand in recent years has resulted in increased construction of rental properties across the GTA. Rental apartment starts have increased over the past five years following a dearth in construction during the preceding decade, but continue to lag that of condominium apartments. Total rental apartment starts jumped by 6 per cent to reach 3,4356 units over the 12-month period ending June 30, 2019 (which is the cut-off point for the survey) while condominium apartment starts rose by 3 per cent to 22,124 units and continue to amount to less than a fifth of the total condominium apartment starts.
Rising rental starts activity has meant the pace of their completions has also risen – with a 25 per cent increase in rental apartment completions between the survey periods. A strong increase in rental apartment completions, along with conversions and units re-added after renovations, helped the total purpose-built rental universe to increase by nearly 1 per cent in 2019.
Reportedly, the Halton Region has recorded the highest growth in units at 4 per cent (about 590 units). Strong transportation networks such as the GO-Train service, which provide easy access to downtown Toronto, has made this region an attractive market for young renters.
Condominium apartment market
Tight rental market conditions in the primary rental market has extended to the secondary rental market, with the average condominium apartment vacancy rate edging up but remaining low from a historical standpoint at 0.8 per cent in 2019. The lack of purpose-built rental supply in the primary rental market has meant that the condominium apartment market has acted as the de-facto rental accommodation supplier for many years in the GTA. Data shows that the share of rented condominium apartments in 2019 amounted to a third of the total condominium apartment universe, and is indicative of persistent investor demand.
Meanwhile, the stock of rental condominium apartments has grown by 6 per cent in 2019 compared to a more restrained rate of 3 per cent during the previous year. These supply increases are due to a higher share of newly completed condominium units and previously owner-occupied condominium units being leased. Relatively low interest rates, low yields for some other investment asset classes and stronger growth in resale prices have discouraged investors from selling at completion. In addition, low vacancy rates and higher rent growth have encouraged both new and existing condominium apartment owners to lease out their properties either as a long-term investment or in anticipation of future price appreciation, which is consistent with tight market conditions prevailing in the resale condominium sector this year.
As supply struggled to keep up with the increasing rental demand, property owners have been able to charge higher rents from tenants. The matched-sample average rent for condominium apartments is nearly 13 per cent higher than the previous year, almost double the rate of increase recorded for private purpose-built rental apartments.