ESG (Environmental, social, and corporate governance) has risen to the top of the facility management agenda. And for a good reason. Pursuing greener operations is not only the right course of action in light of climate change risks, but a proven way of saving money, attracting tenants, and future-proofing assets.
This ESG pursuit can take facility owners and managers in many different directions. That includes under one's feet. For more insights, we reached out to Jeff Grabinsky, Vice President of Development & Sustainability with Executive Mat Service (EMS).
How important is ESG for today's facility managers? What's incentivizing them to reduce their greenhouse gas emissions?
ESG is a relatively new concept, but it's also becoming a top focus for all building stakeholders, be they investors, clients, or the building occupants themselves. As a result, facility managers (FMs) and property managers (PMs) are motivated to adapt quickly and follow suit.
Because there's a growing emphasis on ESG, FMs are incentivized to choose products and services that contribute to ESG objectives and, by extension, result in happier clients and a more sustainable planet. They're also seeing the value supporting companies that are equally committed to ESG values. That aligns well with our team here at EMS, where we are pursuing our own environment and social goals, such as
supporting initiatives like the Indigenous start-up ASKIY floor matting, and fostering a diverse leadership team, which include our BC Managing Principal, Rhonda Harris.
What are the risks of ignoring ESG strategies or failing to reduce greenhouse gasses (GHGs)?
There are reputational risks, for one. A majority of asset shareholders and clients recognize that climate change is real and that Scope 3 embodied carbon and decarbonization are issues that need to be addressed. Because of this, they also want transparency in the way their facilities measure and monitor the carbon-reduction progress and other ESG targets, as well as advice on how to take those goals even further.
How can something as simple as matting and mat cleaning services contribute to that goal?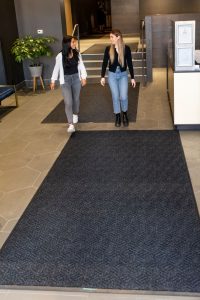 Matting plays a significant role in reducing a facility's carbon footprint and creating a healthier indoor environment. That's been our philosophy from the start. For example, we produce mats made from 100% recycled products that reduce waste and offer a final product with 60% less embodied carbon than comparable, non-recycled mats on the market. We also rely on a patented mat washing system that uses far less water than traditional means. Additionally, EMS technology has been vetted and approved by the One Billion Pound Challenge while SAIT Polytechnic has validated EMS's carbon reduction calculations methodology.
Lastly, it's also worth pointing out that well-maintained mats also play a critical role in managing the dust, grime, and dirt that comes through the entrance of buildings and can negatively impact indoor air quality (IAQ). When you can prevent those elements from getting into the air, everyone breathes easier.
How important is it for facility managers to validate their carbon-reduction claims?
The days of making unvalidated claims are over. The climate crisis is real, and it is important for facility owners to show CO2 reduction with a validated process not only for their shareholders, but to participate in critical industry initiatives like reducing Scope 3 Carbon. To that end, there are initiatives like the One Billion Pound Challenge, where all CO2 meaningful reduction technology models can get validated, that offer a great way for FMs to ensure for stakeholders the data claims are validated.
Innovation plays a large part in "greening" operations. How are you innovating your part of the facility management sector?
EMS is a specialist in facility floor matting and we are 100% committed to tackling climate change head-on when it comes to Scope 3 embodied carbon and the War on Methane. Our 100% recycled matting is made from recycled plastic bottles, and our patented CDF wash process uses 95% less water than industry standards. Additionally, our Green thumb daily organics and paper waste recycling program for buildings have been piloted at some of largest managed facilities with great success and coverts everyday landfill waste into thermal energy. Highlighted in case studies
through the BEIC.
How do you also motivate clients to go further with their ESG goals?
Providing cleaner and greener environments is already an incentive for ESG. When it comes to matting, however, EMS has taken it one step further by creating an electronic coin (aka "e-coin") that customers can collect and redeem for
service and material discounts.
"To incentive low carbon behavior, building owners and FMs receive 'Pericoins,' which we award to clients based on the number of pounds diverted or reduced through floor matting projects," explains Grabinsky, adding, "Pericoin launch has been a great success and it is the new environmentally-friendly bitcoin. It's incentivizing building
owners and managers to make real and sustainable changes."
From your experience, do you see attitudes about GHGs improving among facility managers?
Yes, especially with the climate issues that we are all seeing first hand. There seems to be a big shift among FMs from focusing solely on price point to a more holistic procurement process that incorporates ESG criteria and building Scope 3 into their purchasing decisions.
Executive Mat Service is Canada's only ISO14001 (Environmental) & COR Safety Certified mat rental company in Canada. For more, visit www.executivemat.com, email info@executivemat.com, or call 1-877-290-7711.