Average rent in Canada increased for the second month in a row, rising to $1,721 after six straight months of decline, according to the June National Rent Report.
"After unprecedented declines during the pandemic, the domestic rental market is in recovery mode with many of Canada's largest cities seeing rent growth accelerate in June," said Ben Myers, president of Bullpen Research & Consulting. "Unit showings are picking up, vacancies are declining and tenant demand is strong again in major downtown markets. However, it still could take eight to 15 months before most markets get back to their peak rent levels from late 2019."
As the country begins to fully reopen, tenant demand is expected to pick up with further growth predicted into 2022 when most COVID restrictions are lifted, in-class learning resumes, offices are up and running, and immigration is back to pre-pandemic levels.
Unit types and sizes
On a national basis, large units continue to outpace smaller units in terms of rent growth as many tenants anticipate they will be working from home for longer, while others anticipate a permanent remote set-up.
The single-family rental market remains strong, and apartment rents are now above pre-pandemic levels. The average rent for condos has started to turn up, but remains below peak levels as the high-end downtown markets have yet to fully recover.
Single-family homes have experienced the sharpest increase in average rent since the start of 2021, from $2,214 per month to $2,553 per month, up 15 per cent. On an annual basis, the average rent in June for single-family homes is up 5.5 per cent over June 2020.
The average monthly rental rate for condo and rental apartments have also experienced increases since the start of 2021, but to a lesser extent than single-family homes.
Condo apartments moved from $1,983 per month in January up to $2,032 per month in June (plus 2.5 per cent), but are still down 8.3 per cent year over year.
On an annual basis, average monthly rent for apartments is up 3.1 per cent over June of 2020.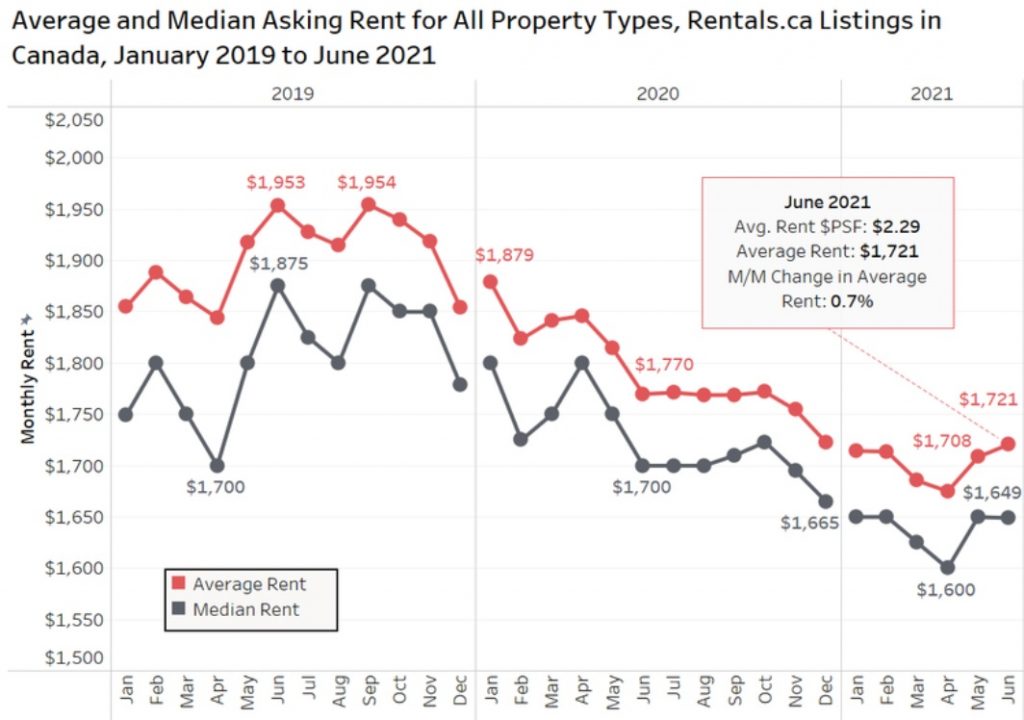 Key markets
Vancouver continues to lead the list of 35 cities for highest average monthly rents at $2,056 for a one-bedroom home and $2,765 for a two-bedroom home. Toronto finished second with average rents coming in at $1,836 and $2,502 respectively.
Year over year, average monthly rent in Toronto is down between 11 per cent for a one-bedroom unit and 7 per cent for a two bedroom.
Montreal came in 22nd for one-bedroom homes at $1,432 and 16th for two-bedroom homes at $1,880. Year over year, rents in Montreal declined by 2.6 per cent.
Halifax experienced the largest month-over-month increase in average rent for June, up 6.7 per cent to $1,731, as many former Nova Scotians have moved back to Halifax with the intention of keeping their out-of-province jobs.
Ontario cities and areas with month-over-month rent increases include: Oakville, 4.2 percent; Markham, 3.8 per cent; Burlington, 3.3 per cent; Windsor, 2.9 per cent; Vaughan, 2.8 per cent;  Richmond Hill, 1.5 per cent; Toronto, 1.5 per cent; Brampton, 1.4 per cent; Kitchener, 1.3 per cent; Ottawa, 0.4 per cent and London, 0.2 per cent.
Hamilton average rents were down 2.7 per cent monthly, and Mississauga rents were down 0.5 per cent.
British Columbia cities with month-over-month rent increases were Victoria at 2.9 per cent; Vancouver at 2 per cent, and Burnaby at 0.2 per cent.
In Alberta, Red Deer (3 per cent); Calgary (2 per cent) and Edmonton (1.4 per cent) had monthly average rent increases.
Average monthly rents were also up in Regina by 2.1 per cent and in Saskatoon by 1.1 per cent. Winnipeg's average monthly rents were up 0.2 per cent.
For the complete report, visit: National Rent Report.