If managing your back office is bringing you stress, rest assured that you aren't alone. As the property management sector grows in volume and complexity, building teams across the industry are working overtime to manage day-to-day financial and tenant management tasks.
Not that property management has ever been easy. As any professional in the industry can attest, keeping owners and tenants happy, maintaining asset value, and navigating ever-shifting rules and regulations has always required a large degree of time, talent and resources.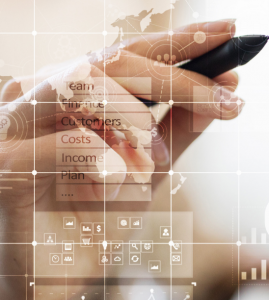 So what's different today? In addition to traditional challenges, property managers are being stretched thin in their efforts to keep pace with heightened pandemic measures, tougher economic conditions, growing competition, and ESG (environmental, social, and governance) mandates. Moreover, many are (fortunately) seeing their portfolios grow, requiring more from their back office.
It's a common challenge in property management. Consider, for example, the tale of "Property Biz," a hypothetical company that has expanded its business by adding to its portfolio over the last years. This is undoubtedly good news, but that growth has left Property Biz's back-office teams struggling to handle the added work and pressures.
They're overwhelmed, understaffed, and at risk of burning out or falling behind while managing critical financial tasks. Moreover, their ever-increasing portfolio is increasing demand for people and resources they may not have available.
In short, Property Biz is growing, but it needs support.
Akan T. Rajah, Managing Partner with Assetsoft, has seen this story play out numerous times within the property management community.
"Clients come to us because they are looking for a trusted partner to take some of that back-office load," he says. "The good news is that there are ways to offload that back office burden so the team can focus on their core business and generating value for their occupants and stakeholders."

Outsourcing accounting
With property teams' now asked to divide their focus and talents across an increasing number of responsibilities, keeping the back office in order can be a challenge.
Herein, says Rajah, there is value in pursuing an outsourced solution: "We can take all that back-office work off our clients' hands by providing a dedicated and industry-trained team on our end who will handle all their accounting tasks."
And there is no shortage of tasks that Rajah and his team are trained to handle.
AssetSoft's third-party accounting services include:
• Rent collection & management: Handling the collection and processing of tenant rent cheques, including managing deposits into the client's bank and updating the enterprise resource planning (ERP) systems (e.g., Yardi) accordingly. Similarly, Assetsoft can take appropriate actions on behalf of its clients when rents are late (e.g., fees, notices, system updates, etc.).
• Vendor management: Collecting vendor invoices, updating ERP systems, and notifying clients when they need to be approved and paid.
• Reconciliations: Managing all reconciliation activities with the bank and other partners as needed.
• Lease audit/abstraction: Conducting third-party audits to confirm that the expenses clients are charging for (e.g., rent, utilities, etc.) are the same as what was agreed upon from the start, and to identify any irregularities or red flags that
might save even more costs that would have otherwise gone
unnoticed.
•Bookkeeping: Ensuring all systems are updated and no accounting information is falling between the cracks.
• Reporting: Creating owner reports to indicate how the building is performing over a period of time.
These are just some of the tasks that can be offloaded to a trusted third-party accounting specialist. And the keyword, says Rajah, is trust: "Accounting deals with a lot of sensitive information, and it can be hard to pass those off to a third party.
That's why the first part of providing relief for our clients is providing them with peace of mind knowing our team is well trained and experienced to take on their accounting tasks with the highest integrity."
It may take time to establish that trust, he adds. Still, once clients see how the outsourcing process works, and the transparency within, they are happy to let Assetsoft's team do what they do best: "Our offshoring model leverages the strength of conventional outsourcing, but ensures the client has direct control on their business outcomes. Because of this, clients can establish their very own team without worrying about all legal, human resource, and technical requirements."
The industry is expanding. Demands are mounting. Portfolios are growing. Herein, an additional benefit of outsourcing is the ability to tackle heightened accounting requirements without the need to hire staff.
For example, Rajah says, "When one of our clients buys new buildings, they don't have to worry about finding new staff. All they do is tell us and we expand our team with more people who are fully-trained in back-office accounting and management."
Indeed, outsourcing allows property management teams to offload time-consuming HR tasks, such as staff onboarding, training, and upskilling.Moreover, adds Rajah, "The costs of bringing new staff on are all absorbed on our end. That includes wages, healthcare plans, insurance, and managing all related tax and labour laws."
By the numbers
Adding up the advantages, it's easy to see how outsourcing property management accounting can bring real, long-term value to one's operations. And today, any extra support goes a long way.
"It's about making lives easier for commercial property management talent," adds Rajah. "Managing a property is much more complex and cost-consuming than it used to be, but like many other modern-day operations, the right partners and technologies can make a huge difference."
The Assetsoft team encourages any questions and inquiries. Email them at learnmore@assetsoftbiz or visit their website at www.Assetsoft.biz.