As the pandemic continues to put downward pressure on the rental market, more Canadians are making conservative housing choices due to sustained income loss and fear of a second wave.
New data from Rentals.ca and Bullpen Research & Consulting show that average monthly rents for one- and two-bedroom units were down for the third straight month in Toronto, Vancouver, Calgary, Edmonton, Winnipeg, Saskatoon and Regina. But while the more expensive properties saw declines, rental units once perceived as less desirable and/or more affordable (i.e. rental apartments and basement units) are beginning to trend up.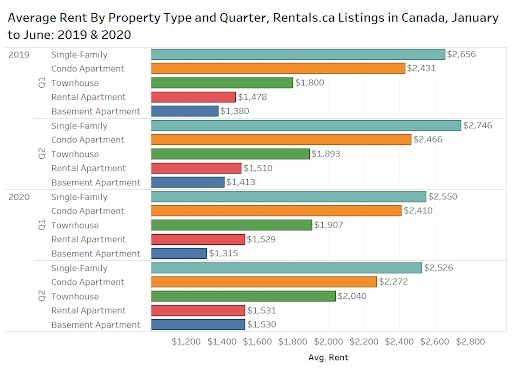 Rental apartments, which typically account for 55 per cent of Rentals.ca listings, saw average rents bounce back in the month of June by 6.7 per cent to $1,564 from May's $1,465.
"Tenant demand has returned to the market as lockdown restrictions end, and employers bring back furloughed employees and rehire staff," said Matt Danison, CEO of Rentals.ca. "But lost income due to COVID-19 and fear of a second wave are resulting in conservative housing choices."
At the city level, month-over-month average rates for apartments and rental condominiums increased by over 10 per cent in Victoria (14.0 per cent) and London (11.2 per cent). Edmonton (9.5 per cent), Winnipeg (8.8 per cent), East York (8.3 per cent) and York (7.2 per cent) all had monthly increases of greater than 5 per cent. Mississauga (-0.1 per cent), Regina (-0.8 per cent) North York (-1 per cent), Toronto (-1.2 per cent) and Halifax (-5 per cent) all experienced negative growth.
Housing choices; prices by city
Toronto had the highest rent in June for apartments and rental condominiums at $2,261 per month followed by Etobicoke at $2,243. Saskatoon had the lowest rent at $980, and was the only city with average rental condominium and apartment rents under $1,000.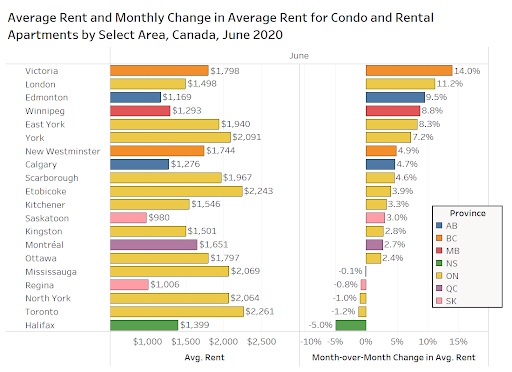 The impact of COVID-19 is not uniform across the country. About 950,000 jobs were added last month nationally, and according to some estimates, about 40 per cent to 45 per cent of the people who lost jobs during the pandemic have gained them back. The resale housing market in several major Canadian cities has started to gain steam, as well—an indicator that the pandemic-related recession could be short-lived. But the unemployment rate is still high, immigration will be well below recent annual intakes, and many students will continue to live at home as classes are held virtually. These will all negatively impact demand.
And more changes are on the horizon, predicts Ben Myers, president of Bullpen Research & Consulting. "Rental forecasting remains uncertain as the potential for greater mortgage defaults continues, eviction bans will soon expire, CERB payments will end, and our borders remain closed, " he said . "There is data that suggests both rent increases and decreases are coming."
More key takeaways from the July National Rent Report:
• Toronto had the highest average monthly rent in June for a one-bedroom home at $2,063 and for a two-bedroom at $2,684. Red Deer brought up the bottom of the list with average monthly rent for a one-bedroom at $870 and for a two-bedroom at $963.
• In Toronto, apartment rents per square foot rose 15.4 per cent from January 2019 to January 2020, rising from $2.93 per square foot to $3.38 per square foot. That rate then dropped 12.4 per cent to a pandemic-low of $2.96 per square foot in May. But the rental market bounced back in June, rising 7.7 per cent monthly and is now up year over year at $3.19 per square foot. Rentals.ca has a significant sample of rental listings in Toronto, and this type of monthly rent volatility is rarely observed. But many landlords are offering incentives, with a number of new purpose-built rental apartments offering two months free rent.
• In Calgary and Edmonton, while average rent for all bedroom types of apartments and rental condominiums is down year over year, they are all up monthly.
• On a provincial level, rent increased quarterly in British Columbia, Saskatchewan and Quebec, while Alberta, Manitoba, and Ontario all experienced decreases between the first and second quarters of 2020. Ontario had the highest average rent ($2,116) followed by British Columbia ($1,987), while Saskatchewan had the lowest ($1,040).