Orange is the designated colour to show support and build awareness within commercial and institutional buildings as Canada prepares to mark its first official National Day for Truth and Reconciliation, recognizing Indigenous experiences in the residential school system. The Building Owners and Managers Association (BOMA) of Canada is urging members to brandish orange and the message behind it throughout the week of September 27 to October 1.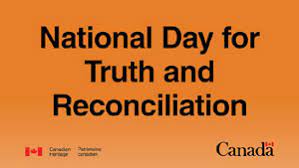 "The highlight of this week will be the events of September 30, also known as Orange Shirt Day," says Stephanie Scott, executive director of the National Centre for Truth and Reconciliation. "We are proud to partner with BOMA Canada to advance this cause in and around commercial and institutional buildings across Canada."
Benjamin Shinewald, BOMA Canada's president and chief executive officer, endorses the effort to spur building users to reflect on brutalized children, grieve their ordeal and honour their legacy. "As the owners and managers of commercial and institutional real estate across Canada, BOMA members realize the outsize role that they play in driving home public messaging," he says.
It's suggested that buildings can brandish orange via interior or exterior lighting and/or with banners, screens and displays — perhaps featuring the hashtags #AllChildrenMatter and #TruthAndReconciliation — in the lobby, at entrances and in other common areas. As the informal name for the day implies, building staff and occupants can also be encouraged to wear orange shirts.