In the hot, hazy days of summer, swimming pools are a great source of fun and relaxation, but they also bring a host of risks and responsibilities for property owners. While rental developments with swimming pools are known to attract more tenants, building owners may be held liable for any injuries or deaths that occur in the vicinity of a pool. As such, building owners are advised to keep up with their jurisdiction's pool-related by-laws and remain vigilant about safety.
Matthew Rynen, personal injury and litigation lawyer at Cohen Highley LLP, warns that if an injury can be linked to a lack of security around a swimming pool, failure to comply with local by-laws and regulations, or a failure by management to supervise and maintain the swimming area, a liability suit is likely to follow.
"While municipal by-laws have their own rules about fencing and enclosures, the primary source for safety and signage requirements for multi-residential pools are found in provincial legislation and regulations," he says. "In either case, a failure to comply with these ordinances puts the building owner and the tenants at risk."
In Ontario, pool operators must adhere to their local municipal fence and enclosure by-laws and ensure the Ontario Building Code requirements are met; they should also consult the Ontario Public Pools regulation for signage and safety measures, which applies to multi-res complexes with six or more units. In B.C., pool operators can refer to the B.C. Guidelines for Pool Operations for a cohesive representation of the generally accepted standards of safe pool practices in that province.
"But overall, it's best to ensure the pool area complies with the maintenance, safety, equipment and operation requirements of any provincial regulations," Rynen says.
Slip & fall accidents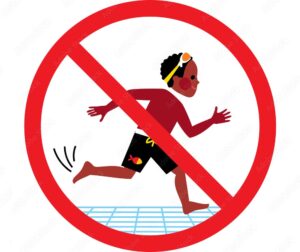 It goes without saying that wet, slippery surfaces increase the risk of slip and fall accidents and should be approached with caution — still, according to Canada's Public Health agency, these account for thousands of hospital-visits each year. A leading cause of head trauma, broken bones, and soft tissue tears, most slip and fall pool-related accidents are linked to "a hazard being present" such as wet pavement, objects in the way, or cracked cement or tiles. If an injury arises due to a slip and fall accident, the injured party must establish that either the pool owner was negligent or that they somehow failed to keep pool-goers reasonably safe.
"Having an appropriate system in place for pool area maintenance, as well as appropriate safety check systems, such as someone to come and visually inspect the pool area periodically for any slip and fall hazards, will help prevent injuries," says Rynen. "This can include having anti-slip surfaces around the pool area as well as clear signage alerting pool-users to hazards, like shallow water. It's also a good idea to have a set of safety rules posted in the pool area, and a system in place to communicate and enforce those rules."
Rynen adds that under Ontario's Occupier's Liability Act, the owner of a pool has an obligation to ensure that anyone on the premises is reasonably safe. This means ensuring the area has adequate lighting, is clear of trip hazards, and has properly installed and functioning equipment. And slip and fall injuries are just the tip of the iceberg. In Canada, 918 drownings reportedly occurred between 2011 and 2021 — more than half of which (55 per cent) were in swimming pools. Sadly, 53 per cent of those tragedies involved young children under the age of four, likely due to a lack of safeguards and/or inadequate supervision.
"No matter the size or location of a pool, the courts have established that there must be appropriate safety and maintenance check systems in place," he says. "Multi-res management must also ensure employees and maintenance staff are adequately trained on utilizing those systems."
For those looking to reduce the risk of litigation, Rynen recommends keeping detailed records of the staff's ongoing efforts to maintain the pool area. Being hyper-vigilant about safety rule enforcement and documenting any steps the staff has taken to resolve issues or address a poolside hazard could serve as evidence, if needed, in the future.
The layered approach to safety 
All pool operators in Canada have a responsibility to protect public safety, and according to the Pool and Hot Tub Council of Canada, "the layered approach" is the best way to maximize efforts. In "A Model by-law for Canadian Municipalities", the group recommends putting multiple safeguards in place to prevent injuries and drownings, while also maintaining the pool area to ensure an effective level of protection.
Recommended safeguards include:
Requiring responsible adult supervision within the pool enclosure;
Having the required physical barriers in place, such as fencing, automatic safety covers, doors, and window latches;
Investing in warning systems, such as access alarms, wave detectors and immersion alarms installed;
Ensuring there is supplemental safety equipment within easy access (i.e., shepherd's hook, ring buoys and other lifelines);
Having posted signs, rules, and painted notices (e.g., 'No Diving' or 'No Running') in clear sight;
Having a telephone installed poolside with emergency numbers listed.
If you are considering adding a swimming pool to your multi-residential property, be sure to familiarize yourself with your jurisdictions by-laws and guidelines in addition to provincial safety regulations.
For legal advice in Ontario, please visit www.cohenhighley.com