Promoting sustainability is key to leaner, greener, and more resilient facility operations. Getting occupants to notice and take part, however, can be difficult. For this reason, facility managers/owners are increasingly turning to digital signage to get their messages across.
Digital signage is nothing new, but its capabilities are expanding. In the days of energy-saving directives and eco-forward attitudes, however, it is proving to be a valuable tool for boosting sustainable activities.
"People typically think digital signs are only there to help visitors navigate their way around the building. That's one use, but more and more facilities are also using them to increase awareness about their environmental activities and encourage occupants and visitors alike to get involved," says Scot Martin, CEO of youRhere.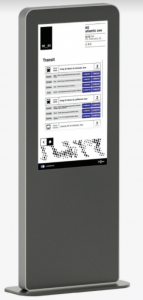 Today, for example, digital signs are being used to advertise sustainability campaigns, promote special events (e.g., Earth Day), broadcast water and energy consumption statistics, or even display real-time public transportation information to encourage alternative forms of transit.
Overall, says Martin, there is a growing trend towards using digital signage to capture attention and gather support: "For example, you could program your sign to display information about a major energy-saving campaign project you're launching and upload energy usage stats every month to keep people invested. At the same time, you can use that same screen to share energy-saving tips and updates on anything else you're doing."
After all, he adds, sustainability is a team effort: "And to keep everyone invested, you need to keep these messages top of mind."
Setting the Standard
The sustainability journey is one of continual improvement. Putting environmental programs in place is only step one; the next is tracking and reporting on your programs to continue making gains.
Here again, digital signs are an effective way of sharing one's progress and keeping the momentum alive. Facilities can upload monthly updates or celebrate important achievement milestones, and opportunities exist to link digital signs to a facility's control systems and display results automatically or even in real-time.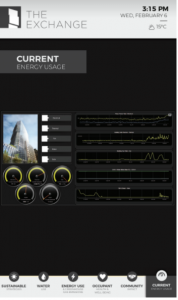 These modern communication strategies can also help facility teams hit their eco-certification targets. Programs like BOMA BEST and LEED, for example, require "Tenant Communications" or "Awareness and Education" initiatives on the part of program participants, awarding points if they are conveying their sustainable activities effectively.
"In other words," notes Martin, "not only do they want certified buildings to be environmentally conscious, but they also want to know there's a communication plan in place to achieve buy-in and make them an ongoing initiative, not a 'one and done' activity".
Of course, it helps that digital signs are an eco-friendly asset in their own right. For its part, youRhere signs include options such as automatic start-up/shut-down controls to reduce energy usage when buildings are closed and, increasingly, screens are being produced with built-in sensors that allow them to automatically adjust the brightness of the display based on the ambient light in the room real-time (aka "Eco-Mode"). Moreover, the use of digital signage over posters and paper-based signs decreases printing requirements, reduces waste, and lessens their environmental impacts.
Sign(s) of the Times
There are many benefits to sustainable operations. And for facilities, they extend beyond saving costs and achieving industry certifications. With more and more individuals seeking eco-conscious lifestyles at home and where they work, there's value in displaying one's green ambitions for all to see.
"Several surveys have shown that employees would prefer to work for an employer that is environmentally conscious, and tenants would rather populate a building that has those same goals," says Martin. "Anything you can do to demonstrate that you're listening and taking action is bound to draw attention."

Scot Martin is CEO of youRhere, a leading provider of digital signage solutions for commercial, retail, healthcare, and educational properties across Canada. For more information, visit www.yourhere.ca.