A redevelopment scheme for a midtown Toronto landmark proposes an additional three million square feet of commercial, residential and rejuvenated community space in the city's intensifying Yonge-Eglinton node. In late December, Oxford Properties Group and CT REIT submitted a rezoning application for the 9.2-acre site of the three-building, 814,000-square-foot Canada Square complex.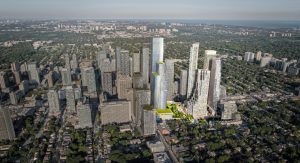 The development partners envision phased introduction of five mixed-use towers encompassing 650,000 square feet of new office space, street-related retail and 2,700 residential units. The plan capitalizes on direct access to the Toronto Transit Commission's existing Yonge subway line and the pending Eglinton Crosstown LRT, which is currently scheduled for completion in 2022, and includes 10,000 square feet to accommodate community uses, along with green, accessible pedestrian routes traversing the site.
The rezoning application reflects Oxford's three-year stakeholder engagement process, which gleaned insight from local neighbourhood groups, transit agencies and the City of Toronto. The master plan team includes: design architects, Pelli Clarke Pelli Architects and Hariri Pontarini Architects; executive architect, Adamson Associates Architects: and OJB Landscape Architecture.
"We will continue to work hand-in-hand with the community, the Councillor's office and stakeholder groups to ensure the project meets the evolving needs of Yonge and Eglinton and the wider midtown community," pledges Mark Cote, head of Canadian development with Oxford Properties.
Canada Square's oldest tower, the 17-storey, 260,000-square-foot 2200 Yonge Street, was constructed in 1962. Its 18-storey, 403,000-square-foot sister tower at 2180 Yonge Street was completed 10 years later and counts Canadian Tire's head office and Ontario's educational broadcaster, TVO, among current prominent tenants.