With Quebec currently Canada's hardest hit province accounting for more than 1,300 cases as of March 25th, the government says the recent surge is partly due to a change in testing procedures, and that the spike in cases was anticipated.
Since March 22nd, the province has been accepting positive results from any hospital lab, instead of requiring them to be verified centrally before counting in the statistics. Another reason for the surge, according to Quebec Premier François Legault, is that the province's spring break takes place at an earlier date compared to other provinces.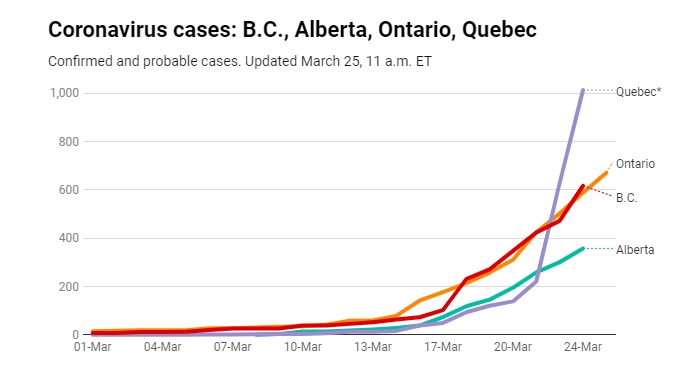 Among the most affected regions outside of Montreal, Granby, Bromont and other towns in the Eastern Townships have experienced a rise in COVID-19 cases. Reportedly, citizens along Granby's residential streets have been hanging red cloths in their windows signalling the need for help. To curb the spread, "special, enhanced measures" have been implemented for the region.
Meanwhile, public health in the Eastern Townships announced that several residents of the Manoir Sherbrooke seniors' home had been diagnosed with COVID-19, now bringing the tally of confirmed cases in that building to 11.
The Quebec government has enacted several measures to help mitigate the spread of the disease since the first cases appeared last month, including: the closure of schools, public spaces and non-essential businesses; mandatory quarantine for all returning travellers; the prohibition of all indoor and outdoor gatherings; and several others.
To help support those in containment, the Temporary Assistance Program for Workers in the Context of the COVID-19 Pandemic (PATT COVID-19) is available to workers who are not eligible for an income replacement program.