The personality of a hotel speaks volumes about the type of experience it offers guests. For Hotel X Toronto, a new urban resort from the Library Hotel Collection, intimate is the personality of choice, and it comes across in all facets of the space.
While it sounds difficult to make a 750,000-square-foot hotel intimate, Stephen B. Jacobs Group, PC/Andi Pepper Interior Design, in partnership with NORR Limited, was able to do just that through the concept of deconstructionism. They used this concept of taking something, breaking it apart and putting it together in a different way in order to create a sense of warmth and intimacy in the lobby, corridors and guest rooms, among other spaces in the hotel.
The 406-guestroom hotel is located on the Exhibition Place grounds, southwest of downtown Toronto and overlooking Lake Ontario, on the site of a former enlisted men's barracks.
Construction began with archaeological excavations, at which time many artifacts and the foundations of the former barracks were unearthed. The design team created a glass reconstruction of the barracks complete with glass floors to display the found artifacts and foundations of the original barracks. Displays at the hotel entrance also showcase replicas of the various uniforms worn by the regiments stationed at the site.
Designing intimacy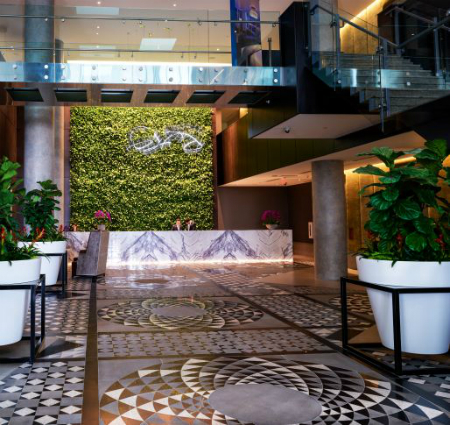 Hotel X Toronto joins the Library Hotel Collection hotels in New York City (Library Hotel, Hotel Giraffe, Hotel Elysée and Casablanca Hotel), Prague (Aria) and Budapest (Aria), all established by Henry Kallan, founder of the brand. However, the previous hotels in the collection are boutique-style in both personality and size, making this hotel something of an outlier.
"We had a very big challenge when we confronted the Hotel X Toronto: how to translate the operating style of the Library Collection to a hotel that was as immense as this one is," said Stephen B. Jacobs, design architect on the project. "Our approach was to break it down into smaller components."
In order to infuse the large lobby with intimacy and warmth, Jacobs and Andi Pepper, interior designer on the project, used eclectic elements to generate excitement within the space. The hotel's neutral colour palette is splashed with vibrant pops of royal blue and magenta. Laser-cut Moroccan-style metal discs are suspended from the ceiling next to a modern marble staircase.
Contrasting styles and finishes were used to create interest, such as the floor tiled in highly contemporary polished concrete and mosaic tiles, arranged in an eye-catching pattern. Matt Black, director of brand management at Hotel X Toronto, finds the combination symbolic.
"The lovely stonework, much like Toronto and Canada, is a cultural mosaic," he said. "This stone is brought together from Asia, Africa and North America. It's very indicative of the country and city."
The lobby was separated into secluded seating groups, or 'living rooms,' created so guests don't feel lost in the grandness of the lobby, according to Black. Seating groups are furnished with custom creations by JIS Contract Furniture (which also supplied furniture for the guestrooms) in varying textures and finishes. Potted trees were placed around seating groups to divide up the space and create a sense of privacy.
"Seating groups with higher-backed sofas prevent sound from travelling, and create intimacy," said Pepper. "For walls, we used mohair cover panels, which look great, but we used them for the soundproofing."
Over 800 landscape images by Neil Dankoff, a Canadian photographer, can be found throughout the hotel, including a strikingly large piece in the lobby. The hotel's Kandy Gallery exclusively showcases more of Dankoff's work.
The main focal point of the lobby is the green wall, which houses over 2,500 individual plants, located behind the reception desk. "The purpose of the green wall is the key to the narrative of all of the live plants that have been brought into the interior," said Jacobs. "This whole project started with putting a hotel in a garden, so we brought the garden inside. We're using live plants throughout the hotel, which is an iconic element of what a Library Collection hotel is."
A roof to remember
Jacobs and Pepper, who are partners both in and out of the office, first met while working on the Gotham Hotel, now the Peninsula, in New York City. Their design for that property included a major rooftop feature, which has become something of a signature for their designs.
Pepper noted the decision to add a rooftop feature to Hotel X Toronto was, "kind of a no-brainer because on all rooftops, you hopefully have good views, but here, not only do you have a fantastic view in every room, but on the rooftop, the view is spectacular."
Not only does the three-level, 10,000-square-foot rooftop on Hotel X Toronto feature multiple social options for guests, including the Falcon SkyBar (a bar and lounge that is also open to the public), an indoor-outdoor pool and a hospitality suite, but there is also a lawn perched atop the hotel, which is a new feature for Jacobs and Pepper.
"You go up on the roof and see all this greenery, you can put a blanket down and have a picnic. It's a nice addition that you wouldn't expect on the roof; an inclined park," said Pepper. "It's quite an experience."
Sustainable mindset
In addition to the aforementioned green roof, which covers over 50 per cent of rooftop space at Hotel X Toronto, the hotel was constructed with sustainability in mind. Drought-resistant plants, which are irrigated using harvested rainwater, were used for landscaping.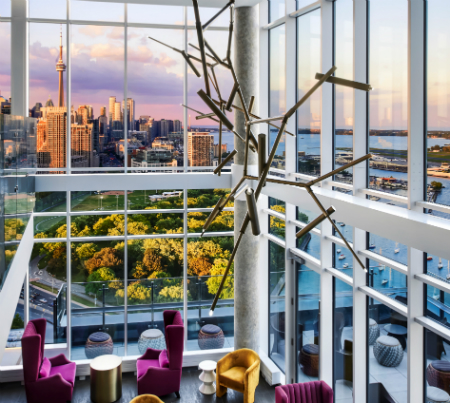 Designed to LEED Silver standards, Hotel X Toronto features custom LED lighting fixtures by Illumination Lighting throughout the resort to reduce energy consumption, along with DXV low-flow plumbing fixtures to cut down on water usage. Lighting and heating functions are on individual controls to increase their performance and efficiency.
The building was insulated using local and recycled content wherever possible. In addition, low-emitting VOC adhesives, sealants, carpets and flooring were specified.
Parking for the hotel is located underground to reduce the heat island effect. Bicycle parking and storage are also offered on-site to encourage those who prefer not to drive. Electrical charging stations will be installed in the coming months, and there are bicycles for rent offered as well.
Resort-style amenities
Hotel X Toronto is described as an urban resort because of the wide array of amenities it offers to hotel guests. It not only features amenities typical to a hotel such as meeting rooms, ballrooms and other standard spaces but also boasts a 24-hour fitness centre, TEN X TORONTO, which spans over 90,000 square feet. For an extra fee, guests can make a reservation at one of nine squash courts, four indoor tennis courts or a golf simulator.
Canada's first Guerlain Spa will open this Summer at Hotel X Toronto, enhancing the wonderful athletic and wellness offerings available at Ten X Toronto, which will also be adding a Junior Olympic sized pool in the coming year.
"There's also 3,000 square foot Play Centre and events for children. It's inclusive in that way," added Pepper. "Not only is there a sports complex attached to it, but there's also one regular movie theatre and one large screening room, along with restaurants. You don't even have to leave if you don't want to," she jokes.
Of course, a hotel in the Library Hotel Collection would not be complete without a library; Hotel X Toronto has two, which are well-stocked with books available for hotel guests to borrow. A selection of books is also provided in each guestroom.
"I am not aware of another building in an urban context that has combined all these features under one roof," said Jacobs. "There is no question that it is an urban resort."
Hotel X Toronto opened its doors to guests in March 2018, with grand opening celebrations set to take place later in 2019.
Kavita Sabharwal-Chomiuk is the editor of Canadian Facility Management & Design.