For the fourth consecutive month, rent is rising for residential dwellings in the Greater Toronto Area, and leasing agents have even begun to report bidding wars on prime rental suites. Barring a setback from the Delta variant, the GTA rental market should continue to see a steady rise in rents as Toronto and the rest of Canada continue to awaken from their COVID-19 hibernation.
According to the August Rent Report from Rentals.ca and Bullpen Research & Consulting, the average rent has increased month over month in most GTA municipalities, with Toronto experiencing the largest monthly increase at 4.7 per cent and Etobicoke close behind at 4.6 per cent. In Oshawa, average rent was up 4.3 per cent month over month.
Additionally, many of the largest units outside of downtown are being snapped up quickly on TorontoRentals.com, and bidding wars have been reported for units in prime locations and newer buildings. Meanwhile, some tenants are still looking for larger rentals outside downtown Toronto, signalling that they don't expect to be going back to the office full-time in the immediate future.
"After the unprecedented rent declines experienced during the pandemic, the rental market is seeing renewed interest, with rents starting to increase more rapidly than they declined," said Ben Myers, president of Bullpen Research & Consulting. "Toronto's average rent jumped 4.7 per cent monthly, a huge increase in the face of increasing demand."
The average rent in 2021 for condo rentals and apartments was highest for one-bedroom units in Oakville, while Toronto recorded the highest for two-bedroom units. For three-bedroom units, Vaughan took the top spot while Whitby recorded the lowest average rent for all unit sizes. Living in a two-bedroom unit in Whitby compared to Toronto saves a tenant about $900 per month.
Condo rentals
Looking at select neighbourhoods in Toronto using data from May to July in 2020 and 2021, the average rent per square foot for condo rentals in select neighbourhoods in Toronto was generally higher last year compared to this year, while the average unit size has stayed about the same.
One-bedroom units experienced the smallest increase from $1,763 to $1,773 in July, an increase of less than 1 per cent, demonstrating that tenants are still looking for more space than they were in the pre-pandemic period.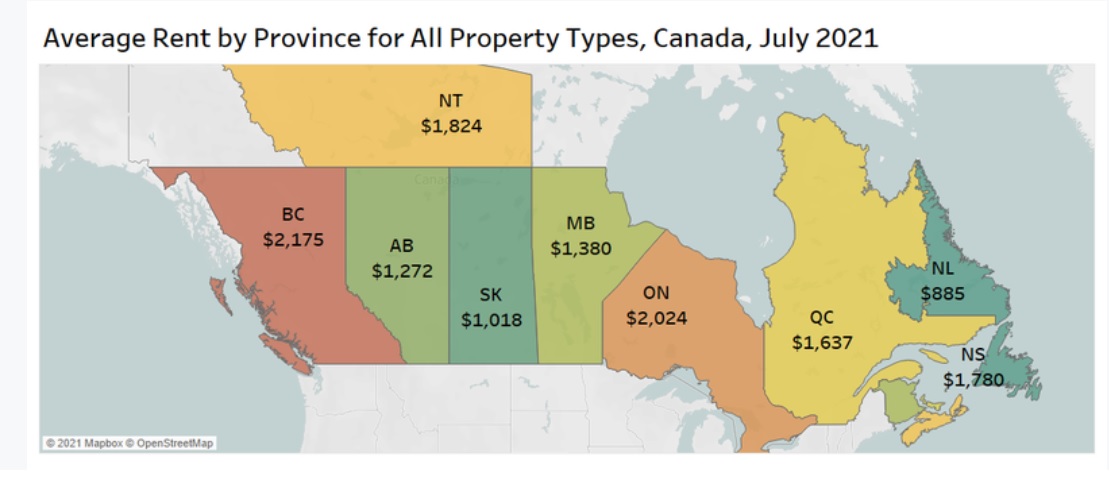 Other key takeaways:
In July, the average rent for a single-family home was $3,207 per month—a year-over-year increase of 13.2 per cent. Condo rentals and apartments have experienced small increases in average rental rate since January. In July, condo rentals had an average rent of $2,204 per month, a year-over-year decrease of 4.2 per cent, while apartments had an average rent of $2,103 per month, a year-over-year decrease of 2 per cent.
The average rent per square foot for condo rentals and apartments have increased from January to July with the exception of studios.
Looking at a sample of condo rentals and apartment developments in Etobicoke shows  the average rents per square foot have generally decreased from 2020 to 2021.
See the complete report here: National Rent Report