The average monthly rents in Canada increased another 1.9 per cent in June after going up 4 per cent in May, according to the latest National Rent Report produced by Rentals.ca and Bullpen Research & Consulting.
"Rental rates continue to trend upward in Canada as the economy remains stable and growing, further boosting demand, while the supply being added to the market is well above the existing average rent levels," said Matt Danison, CEO of Rentals.ca.
While June is a prime month for rental listings and demand, the average rental rate for all property types was $1,953 per month and the median asking rent of $1,875 was up from $1,800 in May. But the average rental rate for only apartments declined slightly month-over-month from $1,531 in May to $1,526 in June.
Toronto continues to lead all cities in average monthly rent for one-bedroom homes at $2,266, but Vancouver again took the lead away from Toronto for average monthly rent for a two-bedroom at $2,833. ($2,782 in Toronto).
Gatineau, ($825 and $1,101); Quebec City ($843 and $1,074) and Lethbridge ($925 and $1,074) continue to take the lowest spots on the monthly rental list for both one- and two-bedroom homes respectively.
On a quarterly basis, median rental rates for most major municipalities in Canada were the same or higher, except in Ottawa, Edmonton and Red Deer. Toronto and Mississauga lead the list for most expensive median rents in the second quarter for the cities listed.
On a provincial level, Ontario led the way for average monthly rent for apartments only in the second quarter at $1,830 — that's almost $300 more per month than British Columbia (The premium in Ontario over British Columbia is smaller for one-bedroom and two-bedroom units at around $250 per month.)
Average monthly rents for all property types have steadily increased in Ontario from October 2018 to June to $2,279, again making the province the priciest for those listed.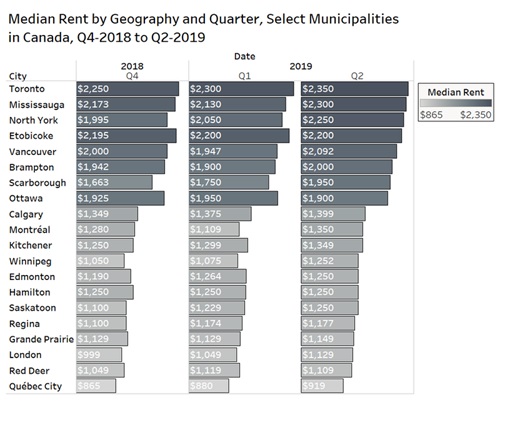 Other takeaways from the June national rent report include:
The average property listed on Rentals.ca in the second quarter was offered for $1,910 per month, an increase of 2.1% over the first quarter. (Despite a smaller average unit being offered, rents continue to increase.)
The market share captured by condominium apartments has increased from 18% in Q4-2018 to 24% in Q1-2019 to 27% in Q2-2019.
Ten of the top 12 cities on the list with the priciest rents are in Ontario.
The average monthly rent in Alberta increased to $1,308 in June after two consecutive months of decline.
In Ottawa, the highest rents are in the Rockcliffe Park and New Edinburgh areas at $2,830 per month. One of the areas with the lowest rents is the Centretown area, right beside downtown at $1,764.
Declines in the unemployment rate and immigration and population growth are two big factors keeping rental demand strong.
The National Rent Report charts and analyzes national, provincial and municipal monthly and quarterly rental rates and market trends across all listings on Rentals.ca for Canada.