In today's competitive job market, finding, recruiting, and retaining employees is a challenge for most business sectors. But for rental housing providers catering to a wide range of demographics and personalities, the importance of having a reliable, professional, service-oriented staff can't be underscored enough.
"We have an operating philosophy at M&R Holdings that we've been adhering to for decades," says Randy Daiter, Vice President, Residential Properties. "We put our employees first, and our customers second. The reason is that if you take care of your employees first then they'll take care of your customers."
Daiter says this strategy has contributed greatly to his company's high employee and tenant satisfaction ratings, which in turn, has helped produce a continuous stream of brand ambassadors. Given one of the primary goals of this business is to attract new tenants and fill vacancies as efficiently as possible, the positive word-of-mouth generated by those immersed in a building's culture is an advantage with lasting results.
"We found that our operating practices for the preceding decades helped us when our industry was in a crisis," he says, referring to COVID. "In the end, we experienced lower vacancies than other buildings, and lower employee turnover. As Collin Powell once said, organizations don't really accomplish anything. Plans don't accomplish anything, either. Endeavors succeed or fail because of the people involved. Only by attracting the best people will you accomplish great deeds."
Sarah Yusyp, Director of Human Resources at Skyline Living, concurs, calling the process of finding, hiring, training, and retaining the right people for her organization critical.
"We are an essential service that provides best-in-class living accommodations and superior customer service to our tenants," she says. "Our front-line staff are the face of our organization and the individuals offering that exceptional customer service. If those front-line employees are understaffed or poorly retained and are leaving our organization taking their years of knowledge with them, it affects the service our tenants receive. Hiring, training, and retaining the right talent is what keeps Skyline competitive. It's at the forefront of our operational needs."
So, how does an organization attract the best people?
According to Daiter, if your company has a good reputation which it continuously upholds with a track record that can be researched, job candidates will be more inclined to apply for an open position.
"Our corporate culture and clearly-defined values have taken us a long way, helping us win two FRPO customer service awards two years in a row," he says. "This acknowledgement by the industry has translated into our strong reputation both online and informally among industry employees and talent recruitment agencies."
Having solid leadership is another important cog in the machine—as is an organization's commitment to developing, nurturing, and recognizing talented prospects. If an employee seems like a "good fit" and shows long-term potential, keeping that individual engaged, motivated, and properly compensated for their efforts is better than the alternative: losing out to a competitor after months of investing in training and development.
"It's nothing like it was a few years ago," Daiter says. "People want more flexibility and the right to work from home. There just aren't as many qualified candidates to choose from, and salary expectations have gone up along with the expenses of running an apartment building."
Impacts of the pandemic
Since COVID-19 shuttered the world in March 2020, the employment landscape has changed considerably. Long-term efforts to mitigate the virus have impacted everything from where and how people work, to what they expect from their employers. For rental housing providers, even the tenants have been affected—meaning both employees and residents are demanding more from property management, and both are prepared to walk if the conditions aren't right.
Five years ago, we could find highly skilled candidates and fill a vacancy within a few weeks," Yusyp says. "Today, it's the opposite. With a surge of open positions following the curve of the pandemic, paired with labour shortages, it's now a candidate's market."
In other words, candidates are in the driver's seat throughout the recruitment process unlike the days of old. Candidates are being more selective about which employers they will apply to from the get-go, resulting in fewer applications and far less choice. Adding to the challenges, Yusyp says jobseekers today are fierce about negotiating higher salaries while considering multiple offers at once.
"We just can't spend as much time evaluating a candidate anymore, or we may lose them to our competitors," she says. "Furthermore, we've seen a notable shift in our interview process: it's not just us asking the candidate why they'd like to work for us, it's the candidate asking us the tough questions. Today, we have to sell our company just as much as the candidate has to sell themselves."
For this reason, Yusyp says Skyline Living has had to evolve the ways in which it attracts candidates to remain competitive in this new labour market, putting more emphasis on the benefits the organization has to offer versus the vacant position simply selling itself.
Mental health, wellness, and the environment
While COVID has left a devastating trail in its wake, it has also shone a spotlight on our mental health and wellbeing— something that used to be considered out of the realm of an employer's responsibility. But after months of isolation, uncertainty, and operating in an environment with heightened needs to sanitize and social-distance, pandemic measures have taken their toll on much of the workforce and altered the perspective of what's considered normal.
"Gone are the days of working long, grinding hours," says Yusyp. "Employees today aren't just expecting a paycheque for their hard work; they want to work for an employer who truly cares about their needs and supports work-life balance. Based on these expectations, at Skyline we heightened our focus on training and communication. Our front-line staff require training that is more readily available, accessible, and functional in a virtual environment."
Clear, timely and continual communication is another requisite of site-staff who want to feel seen and heard. Essentially, Yusyp says employees are seeking a caring work community that respects them and aligns with their values, while also showing a commitment to the greater good. More than ever, employees are placing a high importance on their companies' environmental, social, and governance (ESG) strategies, reinforcing the point Daiter made earlier that corporate culture counts for a lot.
In closing, Daiter says, "I wouldn't be surprised if we moved to a four-day work week at some point in the future given the importance of work-life balance. Five years ago, that concept would have seemed far-fetched."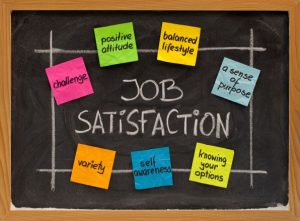 The Pillars of Job Satisfaction
Sarah Yusyp, Director of Human Resources at Skyline Living, shares what matters most to employees in today's competitive job market: 
Purpose – employees need to know how their efforts contribute to the organization they work for. They want to be a part of change and growth.
Growth – employees want to know that they have a future at their organization. They want their employer to provide a place where they can develop their skills and be recognized for their achievements.
Culture – the call to organizations for systemic reform has never been louder. "At Skyline Living, we hear those calls and are committed to change. We are continuously learning and actively exploring what it means to be a diverse, inclusive, and sustainable employer, with the goal of fostering an environment where social and environmental sustainability is upheld, and where all our employees feel supported to be their most authentic selves."
Total Rewards – employees want to work for an organization that compensates them fairly for the work they do and provides them benefits that promote and support their mental well-being.