It's time to look forward at the MJW Team (divisions of Metro Jet Wash Corporation). After one of the most disruptive years on record, the waste equipment cleaning specialist is eager to enter 2022 with fresh insights and renewed optimism.
"The facility management community hasn't had it easy over the last year and a half," says Linda Passarelli, Office Manager with the MJW Team. "We all had to adapt in some way or another, and now the most important thing is how we're moving ahead."
For Passarelli and the team at MJW, one of the biggest takeaways from the global pandemic has been the need to double down on workplace health and safety.
"We've always had very strict rules when it came to cleaning, wearing personal protective equipment, and following hygiene protocols on-site because our jobs take us to some of the dirtiest places in buildings and facilities," she notes. "That being said, the pandemic reinforced how important those measures were to keeping everyone safe, clients and building occupants we encounter every day."
Certainly, adds Brian De Carli, Vice President with MJW, "The MJW Team has always been very strict and has always strongly enforced health and safety measures prior. We're definitely evolving more and more each day as a company and not stopping now."
Adapting to client preferences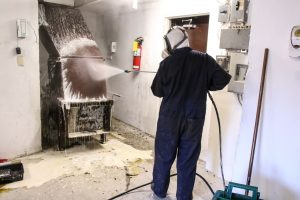 Health and safety considerations have become a chief focus for facility managers (FMs). As a result, MJW has seen a surge in demand for its power washing and cleaning services, be it for compactors, chutes, drains, catch basins, or underground garages and parking lots. Moreover, says MJW Team Division Lead Andrew De Bartolo, clients are requesting more extensive and frequent cleanings in order to stay ahead of health risks: "More and more, we're being asked to go in there and we're disinfecting chute doors and flaps on every floor just to give occupants that extra level of protection."
As Metro Jet Vac Division Lead Cassandra Mammoliti notes, "When things are visibly clean, it makes everybody feel that the environment is safer and more comfortable to live in. It also gives FMs that extra peace of mind, so it's a win for all."
For added peace of mind, MJW has rolled out several promotions and campaigns aimed at helping property and facility management teams tackle their enhanced hygiene obligations. Today, the corporation offers yearly cleaning and maintenance packages, cleaning bundles, and discount offers for new and current customers to make its cleaning services as worry-free and cost-effective for its clients.
"PMs have got enough to deal with. There's so much on their plates managing these buildings, so if we could somehow cut a good portion of that and take care of it and then make life easy for them, then that's our goal," says De Carli.
Hybrid communications
Face-to-face customers interactions aren't over, but business communications aren't likely to return to "normal" any time soon. With many asset management still split between on-site and remote offices, service providers like MJW have adapted to a more "hybrid" approach to customer contact.
"Before the pandemic, we were mostly communicating with FMs and PMs in person. Now, though, a lot of those people are working digitally, so we've also started doing things a lot more digitally or over the phone while trying to keep that personal touch wherever possible," says De Bartolo.
Nevertheless, there is a sense that the work-from-home life is growing thin among building managers and their staff who have spent a bulk of their time offsite in 2021 and are anxious to get back into action.
"A lot of people want to get back into the office or have done so already, so we're working with a mix of digital and in-person communications," he adds. "The priority on our end is to recognize how our customers prefer to interact and make it as easy as possible for them to do so."
Building momentum
2020 and 2021 have kept the MJW Team on its toes. That's to be expected for a team that specializes in keeping people's homes, offices, and working spaces clean. And while the job has been far from easy, Mammoliti says it helps to have a solid crew: "We're lucky in that we have an amazing team that communicates well and has remained positive throughout this whole crisis. So, while it has been one of our busiest years, we've been able to pull together and be there for our clients."
As for what comes next, De Bartolo adds, "We're continually looking forward and asking ourselves how we can better serve our customers? How can we make the job easier for an FM? Like a lot of companies out there, it's all about evolving and continually learning how we can be better."
Adds Passarelli: "We're excited for what's ahead."
Learn more about The MJW Team (divisions of Metro Jet Wash Corporation) at www.mjwcanada.ca or contact the team directly at 416-741-3999 or toll free at 1-844-669-3999.