Perkins and Will
Construction Business
Architect and timber advocate Peter Busby is taking his passion for wood to another level, having worked with all manner of wood over the years.
Design Quarterly
Global architecture and design firm Perkins and Will has acquired Penoyre & Prasad, based in London, United Kingdom.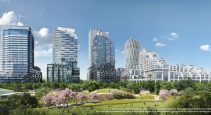 REMI Network
Located at the corner of Dufferin and Dupont in Toronto's west end the project began in 2015.