Facility Managers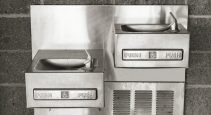 Canadian Facility Management & Design
School plumbing systems require regular pipe flushing to keep kids safe. How sensors can help fulfill this duty amid failing grades at some facilities.
REMI Network
PRSM has released a new white paper that describes how to reduce and potentially avoid unnecessary retail refrigeration costs.
Facility Cleaning & Maintenance
Preventing avian collisions in urban settings may not be a maintenance priority, but municipal bird-friendly standards are only going to get tougher.