The severe housing shortage in Charlottetown, Prince Edward Island, may continue to make life difficult for residents for a little while yet, but relief is in the pipeline according to the latest report on housing starts from CMHC.
In July, Canada's smallest province recorded a 319 per cent increase in housing starts compared to a year ago as developers continue to contend with the near-zero vacancy rate that has plagued the island for some time.
By all accounts, construction is rampant. According to Statistics Canada, the value of multi-unit residential building permits almost doubled in PEI in 2018, and that upwards trajectory continues today. With its thriving economy bolstered by the emerging aerospace, bioscience and sustainable energy sectors, in addition to its mainstay industries of tourism and agriculture, employment opportunities abound. Since 2017, immigration has been steadily on the rise in PEI with more new Canadians choosing the tiny island province as not just a landing pad, but a permanent place to call home.
Meanwhile, graduating students and job-seeking millennials who once sought opportunity in Canada's larger urban centres are suddenly finding that same opportunity on their doorsteps. The problem is, with so many baby boomers and satisfied residents opting to stay in place longer, it seems not everyone has a doorstep to call their own.
PEI housing shortage at "crisis levels"
Like Toronto and Vancouver, Charlottetown's skyrocketing house prices and glut of affordable rental housing, combined with skilled labour shortages and ongoing legislative barriers, have resulted in the desperate need for more rental housing, particularly in the capital city. But even with this new wave of multi-unit construction underway, will it be enough to keep pace with the growing need?
"Multi-unit housing starts in Prince Edward Island reached record high levels in July, which combined with earlier efforts, should help to bring some relief to the area's housing market in 2020 and beyond," said Chris Janes, CMHC`s PEI Senior Market Analyst. "If the PEI economy continues to outperform the other Atlantic Provinces, driven primarily by increased capital project spending and growth in population, income and employment, this trend will likely continue."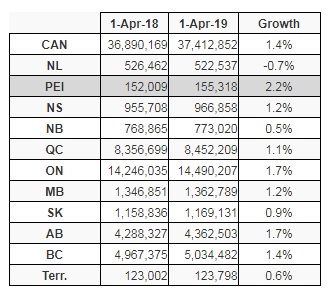 In June, Statistics Canada published its quarterly provincial population estimates, revealing that Prince Edward Island had reached 155,318 residents in Q1 2019.
This total represents a yearly increase of 3,309 persons, or a 2.2 per cent annual growth rate, putting it slightly ahead of Ontario which has sustained a similar growth rate throughout the past four years. As a whole, Canada's growth rate is 1.4 per cent.
According to the PEI Statistics Bureau, international immigration to the province increased by 24.5 per cent in Q1 2019 compared to the previous quarter, and had jumped 11.2 per cent from the same period a year ago. At a rate of 3.5 per thousand, the province of PEI has just posted the highest quarterly immigration rate in the country.
Bill Ferreira, Executive Director at BuildForce Canada calls what's happening on the small island "a construction boom" driven by continued growth in housing starts and peak levels of investment.
"Total residential construction demands could add close to 400 jobs to the PEI market by 2022 and remain at elevated levels throughout the decade," he said. "With housing starts surpassing 1,000 units in 2018 and immigration levels expected to continue as they are, we're predicting housing starts to exceed 1,300 units by 2021, before returning to current levels by 2028."
Immigration key to labour growth
With the in-flow of immigration playing a key role in PEI's labour markets, BuildForce Canada anticipates it will continue to be an important source of potential growth as the province is estimated to welcome 27,000 new immigrants between 2019 and 2028.
And feeding the local construction industry, more than 900 apprentices have been registered in PEI's 14 largest construction programs throughout the last five years, with 450 completions recorded for that period. Of course, to ensure there are sufficient numbers of qualified tradespeople to sustain a skilled labour force over the long term, an ongoing commitment to training and apprenticeship development will be necessary.
But given Charlottetown is currently experiencing a vacancy rate of 0.2 per cent, making it the lowest vacancy rate out of the 37 regions analyzed by CMHC, ensuring that development keeps churning is the only viable solution.