According to the a recent report from Altus Group, the Montreal apartment sector posted an increase of $388 million (22 per cent) in 2018 and continues to lead the commercial real estate industry as the most attractive investment opportunity for the Montreal Market Area.
Bringing in a total of $2.1 billion in sales, the apartment sector accounted for one-third of all investment activity in 2018. An acquisition by Akelius Montreal Ltd. to the tune of $112 million contributed significantly to the year's strong performance, while also boosting foreign investor sales.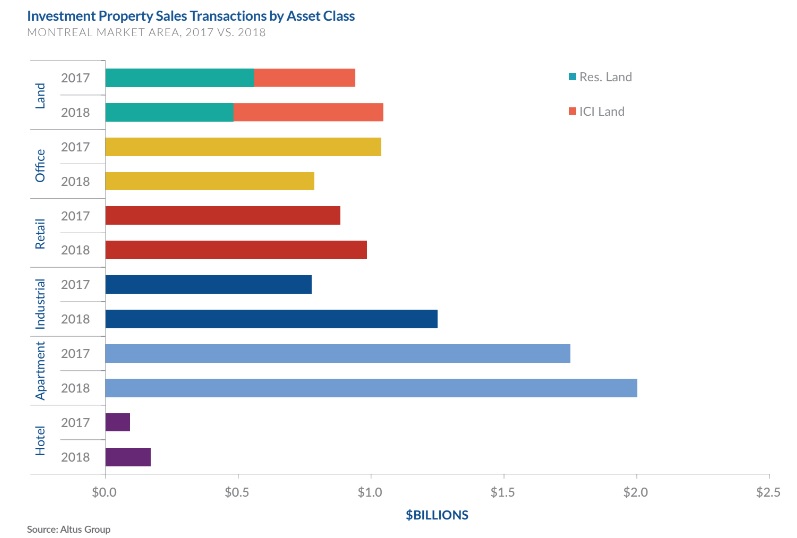 Meanwhile, Montreal's new condominium apartment inventory has turned from an oversupplied to undersupplied situation over the past four years. According to the report, at the end of 2018, there were just over 4,700 units available to purchase, down from about 8,700 at the end of 2014. At the monthly pace of sales during 2018, the 4,700 unsold units represent only seven months of supply compared to about 19 months at the end of 2014.
The tighter supply conditions since 2015 have spurred price increases. After relatively stable prices in 2016, median prices per square foot were up about 8 per cent in 2017, and another 10 per cent in 2018.
Additional report highlights:
Investment property sales volumes in the Montreal Market Area totalled $6.5 billion in 2018, up 18% from 2017;
Just over half of the value of residential land sales was for High Density land;
Many younger renters wanted to buy a home, but were still saving for a down-payment;
Half of 2018 home-buyers were first-time buyers, however buyers were more hesitant than in previous years.