New data from Urbanation shows a rise in the GTA vacancy rate from 1.1 per cent in Q1 to 1.8 per cent in Q2-2020, up considerably from the 0.9 per cent recorded a year ago.
The survey of purpose-built rental apartment projects completed since 2005 also looked at availability rate, which measures vacant units as well as units in which the tenant has provided notice to vacate.  According to the report, that number rose to 3.2 per cent from 2.3 per cent in Q1-2020 and 2.0 per cent in Q2-2019. Both the vacancy and availability rate reached their highest levels since Urbanation began surveying the data in Q1-2015.
"The GTA rental market has been clearly impacted by COVID-19, though the transition has been orderly so far with vacancy remaining low and rent declines being modest outside of some specific pockets in the city," said Shaun Hildebrand, President of Urbanation. "Government income support has played a big role as job losses mounted and immigration dropped."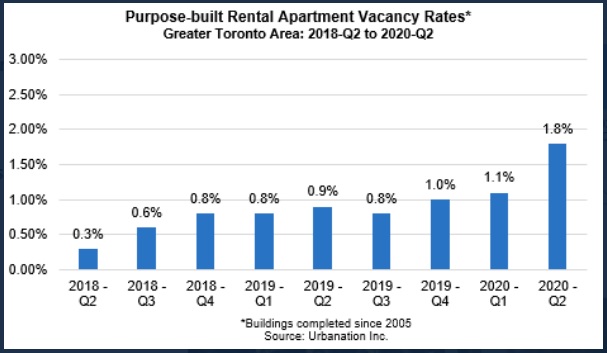 Vacancy rates were highest in the former City of Toronto (largely representing the Toronto core) at 2.3 per cent, compared to 2.0 per cent in the outer 416 regions of Etobicoke, North York and Scarborough, and 0.9 per cent in the 905 region.
Within buildings that have been completed for at least one year, average monthly rents for units that became available during the second quarter declined by 3.7 per cent year-over-year to $2,420, based on an average unit size of 751 square feet. However, when measured on a per square foot (psf) basis, rents declined by only 0.6 per cent from last year to $3.22 psf. The decline in rents was additional to incentives being offered. Urbanation found that 31 out of 73 surveyed buildings offered some form of incentive to attract renters, with the most common being one month of free rent.
At the end of Q2-2020, the number of purpose-built rentals under construction in the GTA totaled 13,358 units, remaining near its more than 40-year high reached in the previous quarter (13,580) and 17 per cent higher than a year ago (11,421 units). Close to two-thirds of rentals under construction were located in the former City of Toronto.
Declines in condominium rents within downtown markets
Total condominium apartment lease activity for unfurnished, long-term rentals in registered buildings declined 31 per cent year-over-year in Q2-2020 to 6,114 units. However, by June as the GTA was entering into Stage 2 of the province's economic reopening plan, lease activity during the month rebounded by 79 per cent from the April low to come within 5 per cent of its level recorded in June 2019.
At the same time that demand for rentals declined in the second quarter as a result of COVID-19, condo rental supply surged to record highs. The total number of listings during the second quarter increased 22 per cent year-over-year to 13,576 units, while active listings still available at the end of June more than tripled from a year ago to 6,757 units. Measured against lease activity in Q2, the remaining inventory equaled 3.3 months of supply, which compared to less than one month of supply last year.
The softening in the condo rental market led rents to decline by 3.6 per cent year-over-year to $3.26 psf ($2,356 for 722 sf). However, the decline was almost entirely concentrated in the former City of Toronto, which reported a 6.0 per cent annual decrease to $3.59 psf ($2,453 for 683 sf). In the outer 416 region, rents were down by 1.8 per cent from a year ago to $3.02 psf ($2,285 for 756 sf), while in the 905 region rents held up best with a 1.0 per cent year-over-year decline to $2.78 psf ($2,181 for 786 sf). The stronger rent decline in the former City of Toronto may be attributable to relatively less demand for more expensive rentals given the economic hardship and the expectation that work from home arrangements may become permanent, as well as a greater concentration of supply in the core due to rising condo completions and units formerly offered as short-term rentals.
One indicator of the conversion of short-term rentals to long-term rentals is the number of furnished condo rental listings offered for 12 month leases, which grew 52 per cent in Q2-2020 to 1,877 units, representing 12 per cent of all condo rental listings in the GTA during the quarter and 21 per cent of the growth in total condo rental listings compared to last year. With demand for furnished long-term rentals declining in Q2-2020 (lease activity fell 24 per cent year-over-year), average monthly rents for furnished units dropped 12.5 per cent from last year to $2,492.