A new rental development from Concert Properties is underway on Dundas Street West thanks to a $73 million investment by the federal government and $5.5 million in capital grants from the City of Toronto. The City is also providing $2.1 million in financial incentives, including exemption of development fees and charges and property taxes to the new development.
When complete, 50 of the 233 suites will have below market rental rates offered through the City's Open Door Affordable Housing Program. An additional 20 homes will have rents guaranteed at or below 30 per cent of median household income in the City of Toronto.
Over the last 15 years, Concert Properties has delivered nearly 12,000 rental, condominium and senior homes across Canada including almost 20 per cent of the new purpose-built high-rise residential rental inventory in the city of Toronto.
"Concert was founded three decades ago with an initial mandate to provide assured and affordable rental housing," said Brian McCauley, President & CEO, Concert Properties. "Social sustainability is a pillar that frames the way Concert moves toward the future, and it includes the creation of affordable, accessible suites that will help build strong, lasting communities."
About the Dundas Street West property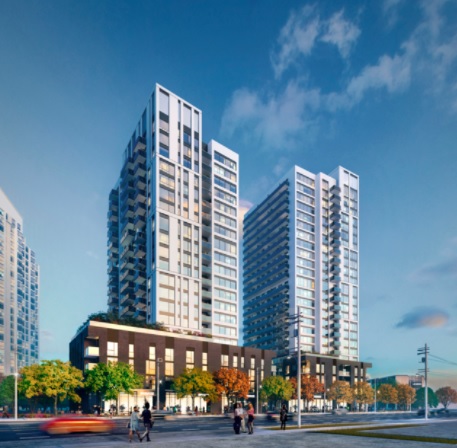 The development will be 21 storeys with ground floor retail space. Units will be a mix of sizes ranging from studios to 3-bedrooms. Construction commenced in summer 2019 and substantial completion is expected by the summer of 2022.
"This is another example of what can be achieved when we work together to address the needs of a growing city like Toronto," said Mayor John Tory.
At least 54 of the development's suites will meet or exceed provincial accessibility requirements, including two universal suites where every room is accessible to those with disabilities and two adaptable suites that can be readily turned into universal suites.