Condominium Authority Tribunal
REMI Network
The Ontario government is amending a regulation under the Condo Act, which will allow the CAT to exclusively handle more types of disputes.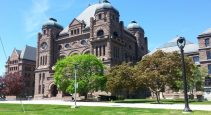 REMI Network
Condo corporations will soon be able to better access and use required forms under the Condo Act.
CondoBusiness
Ian Darling will serve as the first chair of the Condominium Authority Tribunal (CAT) starting Oct. 2.