The Fonds immobilier de solidarité FTQ and Cogir Real Estate announced that they are partnering on a new rental residential project, called UniCité, to be located on Molson Street in the Montréal borough of Rosemont–La Petite-Patrie.
The building will consist of 175 units and commercial space, including an IGA supermarket. The property will include 28 community housing units managed by a housing cooperative with the help of the social economy enterprise Bâtir son quartier.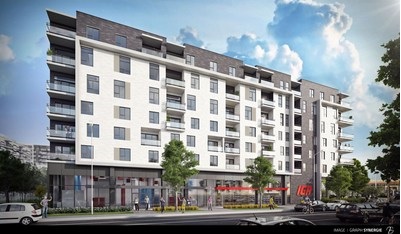 "The UniCité project is located in a vibrant area where the potential for residential development is expected to grow," said Jean-Marc Bélanger, Vice-President, Operations, Multi-residential, Cogir Real Estate. "With its terrace, pool, urban chalet, fitness room, indoor parking and an IGA supermarket on the ground floor, it offers real added value to a neighbourhood that has undergone a major revitalization in recent years."
Situated on a 67,725 ft2 lot, the seven-storey building will offer an outdoor pool situated above the commercial space, as well as a fitness centre on the first floor. There will be a variety of suite sizes ranging from 435 ft2 to 1,050 ft2, each with a balcony, air conditioning and storage space,  and a community garden and ample parking on site.
"This  project will create a housing co-op, supported by members who have been involved for many years," said Édith Cyr, Managing Director, Bâtir son quartier. "These units for families and small households will take up an entire floor, creating social diversity within the project. Bâtir son quartier is proud to collaborate in the creation of inclusive mixed living environments such as this one, which help maintain and fuel the city's economic and social vitality."