The Greater Toronto Area is in the midst of a major growth spurt, with estimates from the Ontario government predicting a population increase of 50 per cent over the next 25 years. With international migration driving this rapid expansion, and the growing technology sector spurring a broader business boom, developers and planners have been busy seeking viable, long-term solutions to accommodate the unprecedented growth.
On June 5th, the Urban Land Institute hosted a webinar featuring successful "mega mixed-use projects" currently underway. Looking at transit, employment, health care, education, community facilities and general infrastructure, the panelists presented their master plans for a full spectrum of high-density housing.
"Explosive growth in the GTA has been contained within an ecological greenbelt," said moderator Rob Spanier, President of Spanier Group and Chair of the Advisory Board at the Urban Land Institute, Toronto District Council. "To accommodate the more than 100,000 new residents per year and the associated economic expansion, municipalities in the Greater Toronto and Hamilton Areas have been advancing the development of their urban centres in a way that will ultimately deliver a series of vibrant edge cities."
Ken Greenberg, urban designer, teacher and principal at Greenberg Consultants, spoke of the Greater Golden Horseshoe, presenting a vision for a multi-centered region leveraging mass transit infrastructure expansion. From Markham to Vaughan, Brampton to Oshawa, Toronto's satellite cities – once considered auto-dependent suburban communities peppered with strip malls and dormant manufacturing facilities – are now being re-imagined as "work, live, play" destinations with vibrant downtown cores of their own. And at this point, it appears not even the novel coronavirus can stop the momentum.
"Particle accelerator"
Referring to COVID-19 as a "particle accelerator, forcing us to do things in a more resourceful and urgent way," Greenberg said the pandemic has done anything but waylay the multi-centric vision for the suburbs he and his fellow planners share. "We are in the throes of a major paradigm shift," he said. "With immigrants and visible minorities making up over 50 per cent of our population, we need to change how we move, live, and access services. We need to move toward a more sustainable future."
But achieving that future, according to Greenberg, means boldly going back to bikes. It means planning urban centres to be walk-centric versus auto-dependent, with mass transit facilitating it all.
Leslie Woo, Chief Development Officer at Metrolinx, revealed that high-level plans for developing the region have been in the works for more than two decades. "The building blocks started in 2001, but the real catalyst was Ontario's 2009 investment of $9.5 billion into expanding mass transit throughout the GTA," she said.
Bringing more confidence to edge city densification initiatives, the province has just announced an additional $60 billion in funding. "This will enable us to invest in stations at the main corridors, technology for smart cars, infrastructure, and the amenities needed for these cities to pivot away from a heavy reliance on automobiles," Woo said, adding that collaboration and solid planning were integral to the process.
And with several mega mixed-use projects currently underway, it's no longer just a vision, but a reality in the making.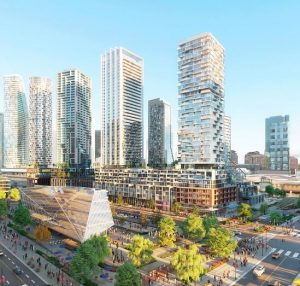 Bookending the east and west ends of Toronto, the cities of Mississauga and Scarborough are in the midst of welcoming two massive new developments located at Square One Mall and Scarborough Town Centre. Presenting master plans for both sites, Marc Cote, Head of Development at Oxford Properties Group, said the goal is to create "walkable, sustainable mixed-use communities" with open spaces and amenities galore.
In Mississauga, the 18 million square foot development will accommodate 35,000 residents, while supporting employment growth and making proficient use of public and private investment in transit and community infrastructure. The site will include two residential towers (one rental and one condominium) for a combined total of 1,000 new units. Scarborough Town Centre, meanwhile, will include three towers in total offering 1,300 units. In both cases, Cote said that the shopping centres and transit availability were instrumental to the projects moving forward.
West of Mississauga and ideally located on the shore of Lake Ontario, Argo Development Corporation, one of the five partners of Lakeview Community Partners Limited, is embarking on a project known as Lakeview Village (shown in top image). Brian Sutherland, Director of Development at Argo, said the new community will breathe much-needed life into Mississauga's waterfront as it transforms an abandoned coal-fired power plant into a vibrant, sustainable mega mixed-use community where residential density and job potential abound.
Set on 177 acres, the master plan includes 8,000 residential units, 67 acres for open waterfront space, and a continuous waterfront trail. Features like diverse housing, dedicated pedestrian and cycle pathways, connection to transit, and year-round recreational and multicultural programming have already earned the development a BILD Award for best new community (planned/under development).
Demand for housing amid COVID-19
Despite the economic slowdown imposed by the ongoing health crisis, the four panelists concurred that demand for a full spectrum of housing triggered by the explosion of growth in edge cities is not likely to decline. "The key challenge is to ensure we can continue at speed," said Woo. "This [health crisis] has driven home the "work, live, play" concept and helped us conceive of an edge city with greater emphasis on hygiene, health, safety and security."
"It has been eye-opening," added Cote about the impact of the pandemic on Oxford's mega mixed-use projects. "It raises questions about the future – about how people are going to congregate, socialize and work." It also underscores the importance of resident access to open space and nature. In other words, the timing of it all and the valuable lessons currently being learned, are all going to influence the design of future  developments in ways that could not have otherwise been foreseen.
"De-concentrating…moving away from one urban centre," said Greenberg. "If anything, the pandemic has reinforced this idea. People will want to be closer to home, closer to their kids and their neighbourhoods. [COVID-19] has made the concept of distribution throughout multiple urban centres more appealing."