The first pieces of an envisioned new mixed-use community adjoining Mississauga's Square One Shopping Centre should be underway later this year. Square One owner, Oxford Properties Group, and its development partner, Alberta Investment Management Corporation (AIMCo), have unveiled a master plan for the 130-acre site in the city's core that will eventually accommodate more than 18,000 residential units, office towers, community buildings and open space, all linked to a public transit hub.
In the first phase of what's to be known as Square One District, they'll team with residential developer, The Daniels Corporation, to construct a 48-storey, 575-unit condominium tower and a 36-storey, 402-unit rental apartment tower. That will be the initial increment of new housing supply that's promised to eventually be somewhat weighted in favour of rental units. Marketing for the first office tower is also set to begin the spring.
"We will work collaboratively with the City and its residents to build a vibrant downtown that meets the needs and aspirations of Mississauga for generations to come," pledges Mark Cote, head of development for Oxford Properties in Canada.
"This new community will support employment with world-class office space to help businesses grow while maximizing the positive impact of new transit being developed in Mississauga," concurs Eric Plesman, executive vice president and head of Oxford Properties in North America.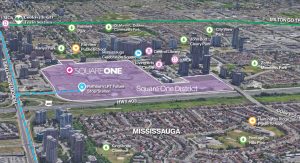 Slated to be a "multi-phase, multi-decade" undertaking, it currently ranks as the largest mixed-use development to be tackled in the downtown of a Canadian city.  The master plan paints a picture of 18 million square feet of new development that will accommodate 35,000 residents, support employment growth and make proficient use of public and private investment in transit and community infrastructure. As one of Canada's top-performing malls, Square One will continue to anchor the strategic urban area as it transforms from largely surface parking lots to a denser, more diversified amalgam.
"Oxford and AIMCo's plan for Square One District recognizes the important role housing plays in creating a holistic and healthy urban community," adds Niall Haggart, executive vice president of The Daniels Corporation. "We welcome the opportunity to continue to build on our 15-year history in the Mississauga's City Centre."