Q4 Architects has unveiled the design of a new rental townhome community coming soon to the Creekwood Chappelle neighbourhood of Soutwest Edmonton. Marking one of the first purpose-built rental communities in the neighbourhood, over 30 per cent of the rental suites planned for the site will be designated as affordable.
Q4A designed the communty on behalf of Saskatchewan-based real estate company Avana. When complete, it will deliver 134 rental townhomes to an area flourishing with green space, wetlands, trails and public amenities.
"Designing this rental townhome community provided the perfect opportunity to show the power of design to create quality and secure spaces that enhance residents' dignity and well-being," said Frances Martin-DiGiuseppe, Founder and President of Q4A. "It's been so rewarding to work with another like-minded firm who shares common goals and values. Well-designed rental housing can meet everybody's needs, and we look forward to seeing individuals and families, especially women, prosper in this new community."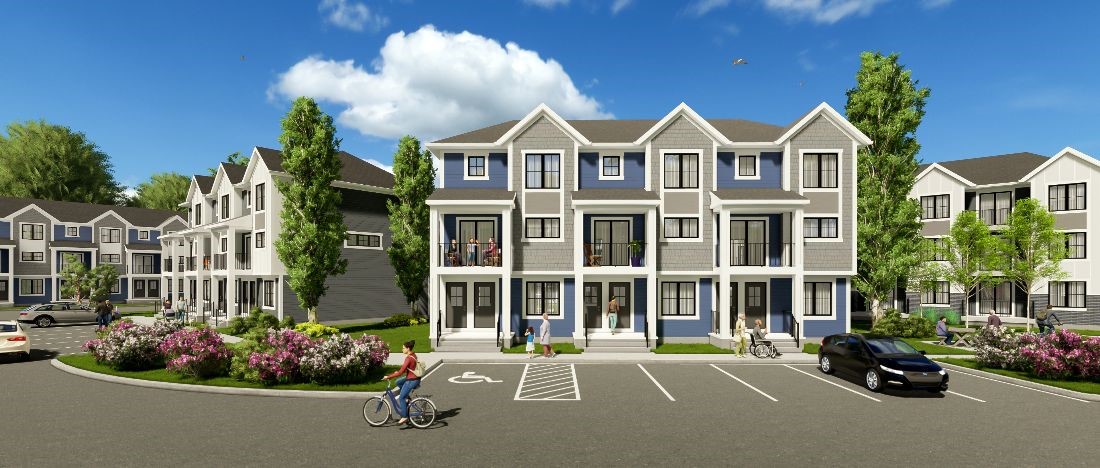 With expertise designing townhomes and detached homes in Alberta, including the award-winning Stillwater Community in Edmonton and Carrington in Calgary, Q4A envisioned three-storey stacked rental townhomes for the Creekwood Chappelle site to increase the number of affordable suites.
A mix of floorplans will be available consisting of one, two and three-bedroom suites ranging from 550 sq. ft. to 1,300 sq. ft. Each townhome will include a private balcony and modern interior finishes. Some townhome blocks will feature rear-lane access garages in addition to front attached garages. Overall, Q4A says the pedestrian-friendly community will have a "modern farmhouse aesthetic, with varying yet complementary designs."
As a purpose-led company, Avana helps subsidize housing for women and children escaping intimate partner violence through their non-profit arm, Avana Foundation.
"In every one of Avana's projects, we look to reduce as many barriers for women and children affected by intimate partner violence as possible," said Jenn Denouden, CEO of Avana. "In particular, what makes the Chappelle development an exciting milestone for our company is the opportunity to build affordable options in a community with a less than 5 per cent affordability rating, while breaking the mould for what affordable housing can be. These attainable, safe, and beautiful homes will create a steady foothold for survivors to rebuild, and we at Avana are incredibly excited to be a part of that journey,"
Find out more about this and other Avana projects at:  Avana Builds. Residential & Commercial Property in Regina & Edmonton.
.