If it seems the pandemic is without an end, you aren't alone. While Canada is inching closer to leaving COVID-19 behind, new variants and fluctuating case counts are continuing to present risks in public spaces. As a result, the pressure is on cleaning professionals to keep our classrooms, offices, hospitals, homes, and public spaces safe.
"Since our wellbeing is often in their hands, we want and need those cleaning professionals to succeed," says Melissa Balinsky, Manager with AMG Medical. "The good news is that by equipping them with tools that augment their abilities and simplify the more difficult aspects of their jobs, we can empower them to do their best work."
Empowering cleaners
Cleaning staff play a critical role in protecting our physical health and wellbeing, and expectations are only rising. According to a recent Leger survey, 84 per cent of Canadians believe that public spaces have a moral obligation to improve their disinfection practices for post-pandemic life, and a majority of Canadians expect public spaces to continue enforcing many measures; primarily, providing sanitizers (72 per cent) and disinfecting their spaces and surfaces (67 per cent).
Even when life returns to "normal", over half of Canadians believe that public spaces should continue to clean and disinfect at the same rate as at the height of the pandemic. Comparatively, only 13 per cent of Canadians say they are fine with public spaces returning to pre-pandemic levels in terms of their disinfectant practices.
Meeting these heightened standards is a challenge for the cleaning community. According to Balinsky, this is where applying a 'human factors discipline' to cleaning and disinfecting regimens can significantly improve outcomes: "When you design cleaning processes and products around the human experience, then you not only get positive quantitative outcomes, like compliance, but also qualitative outcomes, like staff morale, which we know has long-term positive effects."
Putting cleaners at the core
Adopting a "human factors discipline" means putting human habits, preferences, and safety at the heart of designing and implementing processes. In the case of keeping schools and facilities safe and hygienic, that means embedding methods, products, or evaluation tools that consider human psychology and physiology to maximize the likelihood of cleaning staff being successful.
Consider the following ways to make cleaning and disinfecting tasks more accessible and successful for staff: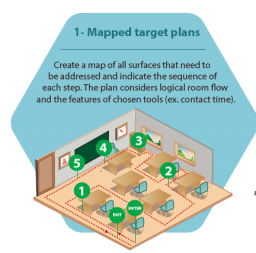 Mapped target plans: Cleaning professionals work safer and more effectively when entering an environment with a map of all surfaces that need to be addressed and a logical cleaning sequence to follow. That cleaning sequence works best when informed by factors like the room's layout, staff capabilities, and features of the chosen cleaning tools (e.g., contact time).
Decontamination charts: These charts detail the products, equipment, and personal protective equipment that cleaning professionals need to succeed in their cleaning roles. Supplying a chart with this level of clarity helps teams establish more positive routines and habits, thereby boosting their confidence levels.
Feedback-based training: The more knowledge and awareness a cleaning professional has going into an environment, the better. Herein, there's value in taking extra steps to ensure staff learns about the products they're using, the reasons behind the protocols and processes they're following, and the risks they may face while on the job. It's also important to use training platforms that support common learning styles and leverage quantitative data to reach better outcomes.
Tech assists: Consider what technologies or systems can aid your team. This could include mobile cleaning apps, automated tools, task management software, data analytics tools, or anything that promotes collaboration and continual improvements.
Human-centric products: Cleaning professionals work best (and less stressed) when they know they're doing the best job possible. That means hitting everything that needs to be cleaned and doing so with the right contact times. Here's where using the right products and technologies can provide that peace of mind by assuring staff that all aspects of an environment are being cleaned and disinfected to the best of their ability.
AMG Medical's Nocospray Disinfection System is an apt example of human-centric cleaning products. The device is an automated room disinfection system that can be activated within an environment and left alone to disinfect an entire space with zero human interaction.
"Staff still need to conduct that initial clean, but the Nocospray system allows them to activate a simple device, leave the room, and focus on other tasks with confidence that the environment is being disinfected thoroughly," explains Balinsky. "The idea is to reduce the time individuals are being exposed to potentially contaminated environments while saving costs and ensuring a complete disinfection."
"You don't have to wonder if it worked," she adds. " It's designed to do its job and set cleaning professionals up for success."
This philosophy is also behind why AMG Medical worked with Kinnos to bring the Highlight® for Bleach Wipes to Canada. The wipe colouring system applies a specially developed ink to the wipe so as the wipe is used it shows staff that they have completely covered a surface. The device fits on top of tubs of wipes and holds a proprietary ink cartridge that applies the ink to wipes as they are dispensed.
"Then, when you wipe with that wipe, you will see the blue colour where you touched before it fades away within a few minutes," explains Balinsky. "The idea is to show people if they've adequately covered an area in real-time, and it can also be used as a training tool to teach team members good wiping technique so they are more likely to achieve the right contact time and disinfection."
'By letting people clearly see where the surface is covered and where it is not in real-time, you help them get better results," explains Balinsky. "Then, the colour fades in a few minutes. It makes for one less thing staff have to figure out."
Tools like this also go beyond the on-the-job feedback, she adds, noting, "Training sets the stage for how people will do. When you train or retrain staff on how to use wipes, you can see what skills are there and what may need to be reviewed."
Each to their own
Returning to "normal" may take longer than any of us hoped. And with Canadians set on returning to safe and hygienic environments and less likely to settle for "pre-pandemic" standards, cleaning professionals have a lot of responsibility on their hands. Here's where embracing human-centric principles can ease tensions, empower professionals, and keep everyone safe.
AMG Medical is a Canadian-owned company focusing on the health of our valued customers. For more about AMG products and services, please feel free to visit www.amgmedical.com or call 1-800-361-2210.