After 15 years in the business, Metro Jet Wash has nearly seen (and cleaned) it all. Over the years, the family-run company has grown to accommodate new challenges, collecting new insights, technologies, and perspectives along the way. Now, on the eve of its crystal anniversary, we sat down with Leslie De Carli, Metro Jet Wash CEO; Claudio De Carli, President; and Brian De Carli, Vice President; to discuss their industry experience, perspectives, and future ambitions.
Take us back 15 years. How did the company start?
Leslie: At that time, my husband Claudio had worked for our sister company, Metro Compactor, for many years and I was working nights at another corporation. Claudio was always being asked to wash containers and do other maintenance or cleaning tasks, so he felt confident in my experience and saw an opportunity to partner up and provide a "one-stop shop" for customers in the commercial and residential space.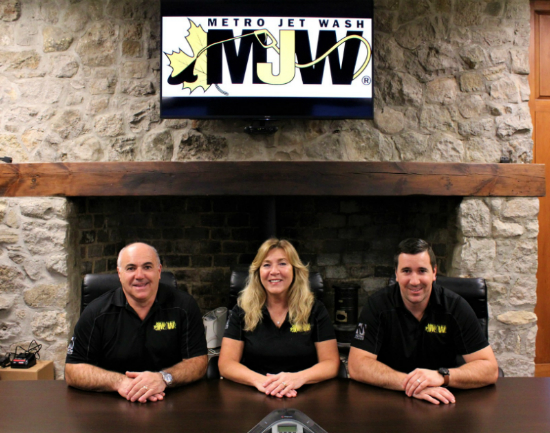 Claudio: Cleanliness was becoming a big factor for clients. You had these compactors on the floors where people worked or lived and without the proper maintenance they would begin to cause odours. But more than that, those residents and office workers just wanted a nice, clean place to be around. So we eventually went even further by refurbishing compactor rooms and the corrals outside to make them look a lot more presentable.
Brian: We also started cleaning and maintaining a lot of parking lots and garages, which makes sense. If you have a dirty looking parking lot or garbage room, that creates a bad impression; and if those rooms aren't being looked after, it sends the message of "What else isn't going to be clean?" while also setting the tone for the rest of your property with regards to visitors and tenants.
How did your company evolve to meet the demands of the industry?
Claudio: We started with caring for the garbage chutes and the overall presentation of garbage rooms, but then we evolved into power washing undergrounds, sweeping, and looking after their overall underground presentation. From there, we moved into services for drains because that was another part that was being overlooked by the industry.
In the end, we became more than a power washing company. It used to be that Metro Jet Wash would clean chutes/compactors, but we evolved to parking lot cleaning and line painting. We also added MJW Odour Solutions to our service and sell cleaning products and odour control solutions – the same products and services we as professionals use and perform on a day-to-day basis. On top of that, we added Metro Jet Vac, a division that cleans out catch basins, sump pits, and power flushing drains as well as environmental cleanups; Metro Building Contractors, a division that restores garbage rooms and construct garbage enclosures along with exhaust fan/louvre installs and repairs and parking garage lighting and more; and Drop'N'Toss, which offers commercial and residential bin rental and junk removal. All divisions make a complete solution package of services for customers, providing additional safety, quality, and efficiency.
How do you see the equipment/technology evolving in your field?
Claudio: A lot of the evolution is around water retention. The upgrades and equipment you need to retain water more efficiently can be an expensive but necessary investment. Still, that's where everything is going, and we have to make sure we're ahead of that change for the environment.
Brian: Another big shift is that everyone is going digital. Everybody has a system now and we're connecting to those systems to accept purchase orders, respond to questions, invoice for work, and communicate with the client. It can feel like you're talking to a computer all the time, so we still see a value with face-to-face and voice-to-voice interactions.
How you've seen the industry though change over the last 15 years?
Leslie: I think the industry is finally catching up to the importance of job safety. There have been accidents in our industry where people go to the hospital for carbon monoxide poisoning because they weren't wearing the right equipment or didn't have the right training. Now, the industry is becoming much more cautious; they're adding fans and carbon monoxide detectors to enclosed spaces.
Claudio: Safety has become very, very important. It always has been for us. From the start, we've made sure to give them the right tools and education so they're doing their jobs properly and going home to their families at the end of the day.
What about environmental considerations?
Leslie: People are more aware of their world and want to protect it. That's something we've always aimed for as well by using products that are good for the environment and ensuring they're disposed of properly. We have MOE certification with knowledge of correct processes and disposal methods.
Brian: The same applies to water usage – we've been very focused on retaining water either through tech upgrades and new tools practices.
Claudio: Right, because at the end of the day, we're not just concentrating on business; we're concentrating on the big picture: the future of our kids, they're kids, and how we can do better for them.
For more information, please visit www.metrojetwash.ca.