HOK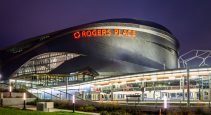 Design Quarterly
Rogers Place arena in Edmonton has received LEED Silver certification. It is the first NHL facility in Canada built to the LEED Silver requirements.
Canadian Property Management
Hospitality guests are turning to immersive hotels as they now desire a unique experience that sets them apart from their social networks.
Canadian Facility Management & Design
CBRE's Toronto West team was the first of three GTA offices to move into new digs as the firm completes a cross-country workplace transformation program.