Builders Code
Construction Business
The Southern Interior Construction Association (SICA) will be the first regional construction association in B.C. to host Builders Code training workshops.
Construction Business
The BC Construction Association (BCCA) and its Builders Code partners have launched a province-wide campaign that tells workers to not be a "tool."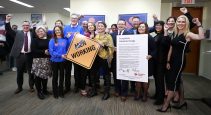 Construction Business
A new initiative called Builders Code aims to address B.C.'s skilled labour shortage by reducing harassment, bullying and hazing on construction worksites.