construction training
Construction Business
The Southern Interior Construction Association (SICA) will be the first regional construction association in B.C. to host Builders Code training workshops.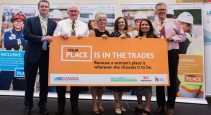 Construction Business
LNG Canada has launched a province wide workforce development program aimed at attracting, recruiting, training, supporting and employing women.
Construction Business
The Minister of Advanced Education, Skills and Training has appointed six new board members to the Industry Training Authority (ITA).