Well-restored heritage buildings are tremendously popular among businesses. The spaces created within these structures are often larger than modern offices and have a warmer feeling associated with exposed brick, sawn timbers and steel connections. A retailer located in an iconic heritage building will also benefit from the building itself being an attraction to potential customers and clients.
Heritage buildings, like any building, require continued and increasing maintenance as they age. Many of the materials and techniques used during the original construction are no longer prevalent, and consequently the materials and knowledgeable trades people have become scarce. Owners can no longer rely on trade knowledge alone to preserve the aging materials that form the façade of these buildings. Even the best intentions can be devastating to a building's historic fabric if the work is poorly executed.
The materials that make up the façades of these old buildings, including terra-cotta, local building stones and brick, are aged and in spite of their robust appearance are quite sensitive. Combine this sensitivity with the often aggressive interventions required to remediate subsurface problems typically found on historic façades, costly or even irreparable damage can be done.
Glade Schoenfeld, a Professional Engineer in the Building Science and Restoration Group of RJC Engineers' Vancouver office, understands the intricacies of preserving older buildings—and can spot a "restoration fail" from a mile away. Recently, he tweeted about a heritage building he noticed was marred by the tell-tale signs of poorly executed conservation work.
"It was made of Andesite, a type of building stone commonly used in the early to mid part of the last century," he says. "Like sandstone and limestone, this material is great but it is prone to deterioration in the form of exfoliation over long periods as the moisture moves through the stone and evaporates just beneath the natural patina of the stone, leaving behind a build-up of minerals." Glade explains that this build-up of minerals exerts localized pressure on the back surface patina causing it to exfoliate. The repetition of the process is the deterioration of the stone.
While the natural wetting-drying process cannot always be avoided, Glade asserts that the best conservation approach is to simply intervene as little as possible. "With andesite, it is difficult to replace whole blocks. The best approach is to scale the loose material off and manage the water by deflecting or applying a water repellent," he notes.
In the case of the example above, it was obvious to Glade that the contractor had made erroneous use of a cup-stone on an angle grinder operated by hand to resurface the stone, which led to chawed uneven surfaces. "Assuming the stone actually required resurfacing, hand grinding a vertical surface was never going to result in a smooth finish. A smooth finish could have been achieved with a wall mounted jig," he says.
Least Intervention: Conservation Best Practices
When it comes to heritage conservation, Glade advocates taking the "less is more" approach and only intervening when necessary—and for Andesite the first step is small, localized repairs. Using a scraper to scale away problematic areas and managing the water is what he calls the first level of intervention. After that, some stones may require "Dutchman" repairs, or a step further being whole stone replacement.
"Before launching any repair work, seek out trusted heritage conservation specialists and contractors who are experienced in working with older materials," he says. "Ask for a mock-up, a sample of the treatment, so you can review the results before committing to a method of repair. It is important to note that the existing stones, having been out in the weather for more than 100 years, will not match for several years."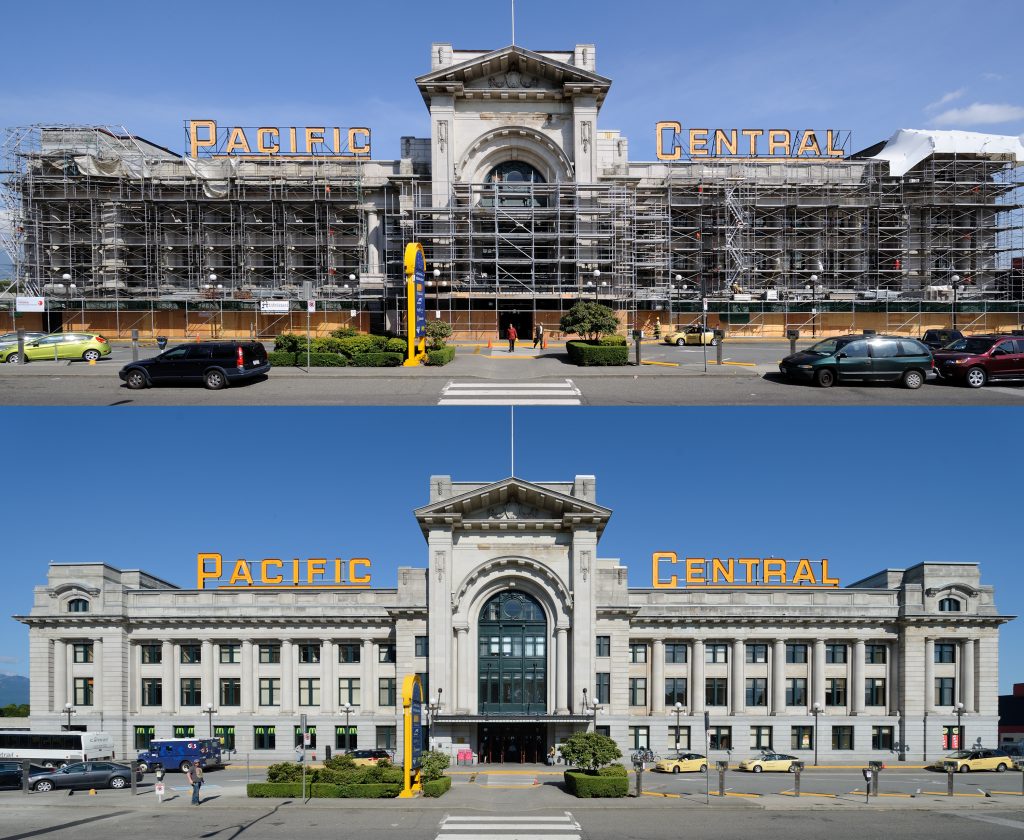 In conclusion, Glade asserts that any owner who pays to have repair work done only to end up with unsatisfying results can avoid this outcome by engaging the right team. The team would consist of a qualified consultant to specify the correct repair methods, an experienced contractor to construct the mock-ups and conduct the work, and an owner with the motivation and the means to undertake the work correctly.
"Generally speaking, contractors need to be told what repair method to use or the owner is risking a lot," he says. "Choosing the right conservation method for your building will not only help maintain its aesthetic appeal, but it will increase its longevity and long-term value."
Learn more about heritage building restoration at: www.rjc.ca. For more information on repair methods, please contact Glade Schoenfeld P.Eng. CAHP.