Canada's multi-suite market performed at a healthy level for landlords and investors in 2019, according to the latest Economic Outlook Report from Morguard. This outcome was largely driven by economic growth and ongoing demographic trends supporting strong rental market conditions in Canada's major cities throughout the year.
Increased demand from downsizing baby boomers and families looking to rent due to the high cost of home ownership in major cities was a key driver in the sector's performance. Canada's strong record as a draw for international migrants and students also had an impact on the rent demand cycle, with Morguard anticipating that the national average vacancy rate will close the year off at around 3.0 per cent.
Meanwhile, conditions in cities like Toronto and Montreal have been markedly tighter where the supply gap is making life difficult on prospective renters. Generally speaking, metros with emerging technology sectors and high concentrations of highly skilled young workforces have registered the highest rent inflation. Morguard does anticipate that new supply activity, which is expected to increase over the near term, will dampen rent growth levels to some extent in some of these markets in the future.
In Toronto, it was certainly a landlord's market throughout 2019, with record low vacancies making the hunt for quality rental accommodations a challenging one for tenants. As we close out the year, GTA's average vacancy rate continues to range below the 2 per cent level, with landlords benefitting from the large renter pool while facing minimal competition from the rental condominium sector. For investors, the sector continued to register "largely stable and positive characteristics."
Vancouver, meanwhile, continued its sustained period of imbalance with the market average vacancy rate resting just above 1 per cent, driven by a strong economy, high population growth, and the high cost of homes. Prospective renters in this region were faced with few available options and the highest rents in the country.
In Montreal, the vacancy rate continued to decline, as rental demand outpaced supply. The current market average vacancy rate of 1.9 per cent is expected to hold into 2020, making life difficult on the region's renting population.
Multi-suite residential sales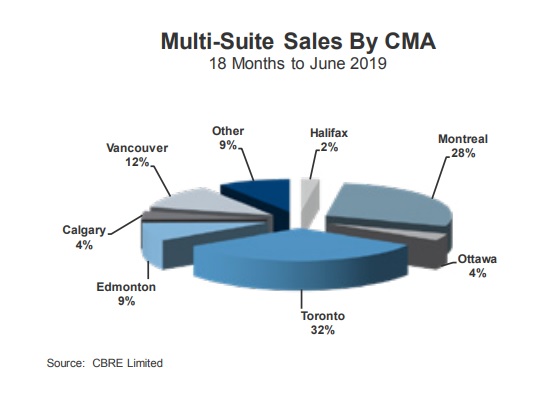 In terms of transactions, multi-suite residential rental property sales volumes totalled $4.0 billion in the first half of 2019, which was slightly below the record annual high pace of 8.3 billion in 2018. All-in-all, multi-suite residential rental properties were highly coveted assets by investors, leading to aggressive bids and vendor price expectations that were generally met.
Other commercial real estate sectors performed well throughout most of Canada, too, including industrial and office, which saw investment sales activity continue at a record pace in 2019.
"Commercial real estate remained one of the most attractive and stable long-term investments in 2019 and will continue to attract interest from investors in 2020," said Keith Reading, Director of Research at Morguard. "The real estate industry, along with the Canadian economy, continued to expand in 2019 despite the global trade dispute and challenges in the oil and gas sector impacting domestic business confidence."
The full 2020 Economic Outlook Report, including analysis for the real estate markets in Halifax, Montreal, Ottawa, Toronto, Winnipeg, Regina, Saskatoon, Calgary, Edmonton, Vancouver and Victoria is available at morguard.com/research.