Although the pandemic slowed construction activity considerably in 2020, forecasts suggest we're at the dawn of a new era for development in Canada, as new opportunities, emerging technologies, and several planned mega projects gain momentum in the wake of a successful vaccine rollout.
According to a recent market report from Vancouver-based real estate advisory firm BTY Group, infrastructure, renewable energy, industrial and multi-residential housing are all expected to steer construction starts back on track in 2021, resulting in a rebound to Q4 2019 levels by the end of the year.
Toby Mallinder, managing director at BTY Group, underscores his firm's cautiously optimistic outlook: "In the longer term, we are expecting changes driven by COVID-19, especially in technology, to accelerate improved productivity," he said. "Achieving—and surpassing—pre-2020 construction activity levels still depends on a robust economic recovery supported by a speedy, successful and sustained vaccine rollout."
While some sectors will continue to lag—namely, airports and airlines, hotels and hospitality, and bricks and mortar retail—the report refers to several planned mega projects in BC, Quebec and Ontario that should help counterbalance those declines. Here is a province-by-province breakdown of what to expect as 2021 unfolds:
Ontario
Ontario's robust infrastructure program, bolstered by government stimulus spending  will help offset sharp declines in other sectors and a projected dip in housing starts. Ongoing and proposed projects in the province include numerous healthcare, utilities, and transit projects such as the Eglinton, Hurontario, and Finch LRT. In terms of residential development, reduction in immigration is expected to damper overall demand in 2021, with residential properties in the suburbs continuing to outperform those in urban areas as a result of remote working.
British Columbia
Mega energy projects, a long roster of major infrastructure projects, and government stimulus spending will keep B.C. construction buoyant despite a decline in residential building. Housing starts are projected to dip from 45,000 in 2019 to 35,300 in 2020 with a slight increase to 36,300 expected in 2021. Major ongoing projects in Vancouver, such as the ongoing Oakridge redevelopment, will help support healthy activity in the city. Like in Ontario, remote working has led to many residents choosing to live in suburban areas compared to previous years.
Alberta
A longer recovery is projected for Alberta due to continued pandemic restrictions and ongoing weakness in the energy sector. As such, BTY Group says a return to pre-pandemic construction levels is not projected until 2023. Capital spending is at an 11-year low primarily due to cutbacks in the energy sector exacerbated by the oil price meltdown earlier in 2020. Residential housing was down sharply in 2020 and will likely remain flat throughout the year. The bright spot will be rapidly growing private sector investment in renewables.
Saskatchewan
Like Alberta, continuing weakness in the energy and mineral mining sectors are slowing recovery in Saskatchewan, but booming agri-food production and exports will help the province weather the storm until recovery takes hold. Residential activity is projected to drop 10 per cent in 2020 as demand slows due to lower population growth and job losses, with a rebound anticipated in 2022. Overall, the province intends to invest $30 billion in infrastructure development over the next decade.
Manitoba
Of all the provinces, Manitoba is expected to experience the least economic impact from COVID-19, but will still see construction declines despite government infrastructure spending. In terms of housing, investment in residential building is projected to decline by an estimated 11.6 per cent in 2020, with a return to growth in 2021. While housing starts were strong in the first quarter of 2020, they slowed when demand weakened as the year progressed.
Quebec
With several major transportation projects underway, supported by added government investment in infrastructure, the non-residential sector in Quebec should soon return to pre-2020 levels. Investment in the residential sector, which still remains the hottest housing market in Canada, is facing a forecast decline of 8.4 per cent in 2020 before rising by 3.5 per cent in 2021. A complete return to pre-COVID levels is expected in about two years.
Atlantic Canada
Buoyed by major capital spending, Nova Scotia and New Brunswick will bounce back stronger and faster than Prince Edward Island and Newfoundland and Labrador. Slow – and even negative population growth – will be an added drag.
Key drivers for multi-res housing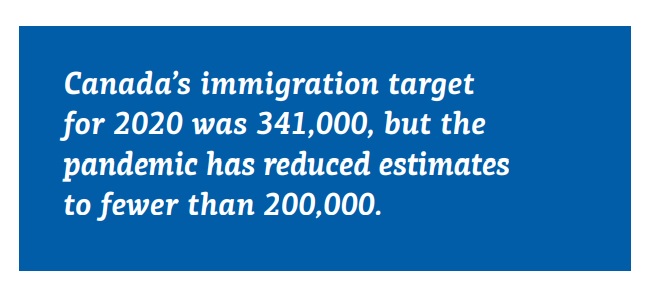 A sharp drop in immigration is expected to reduce housing demand in the short-to-medium term, but longer term, as the baby boomer contingent seek out accommodations that better fit their needs, and immigration picks up after COVID measures ease, innovative, affordable housing options including the continued expansion of modular housing, will be needed to help support future demand. Meanwhile, climate change challenges will continue to spur investment in renewables and energy efficient infrastructure across the country.
U.S. outlook: rental market trends south of the border
According to U.S. national rent resource, RentalGuide, rental market trends south of the border will continue to be impacted by COVID-19 and the resulting higher unemployment rate for an extended period of time.
As the economy seeks to rebound in 2021, recovery could be slow in the beginning of the year, causing more concern for consumers who are unsure about their jobs and finances. Renting an apartment will remain an attractive option for those who don't want to be saddled with a mortgage with an uncertain future.
"Overall, multifamily markets have remained tight from an occupancy perspective, even as rent growth has been weak to negative as operators focus on renewals," said Brad Dillman, chief economist at Cortland, and an Atlanta-based multifamily investment and management firm. "As a result of this resiliency, we expect rent pressures to rebound in the second half of next year."
Meanwhile, multifamily construction could face delays due to the soaring costs of construction materials, which began in the summer of 2020 due to the unprecedented demand. The lumber supply chain was heavily impacted by the pandemic with so many homeowners conducting renovations, pushing lumber and home prices higher.
"We expect builders will feel this pinch over the quarters ahead, possibly causing a slowdown with new construction," Dillman said.