Boardwalk REIT released an operational update pertaining to its portfolio occupancy and rental revenue collection rates as COVID-19 continues to impact the housing market in Canada.
According to Sam Kolias, Boardwalk Chairman and CEO, Boardwalk's move-ins exceeded move-outs in the months of January, February and March which have led to a significant 100 basis point gain in occupancy to 95.7 per cent.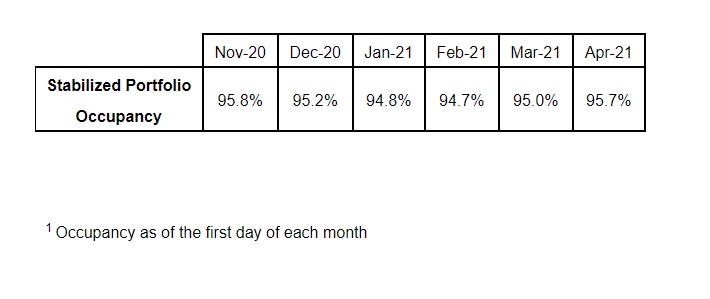 "We cannot thank our Boardwalk team of heroes enough for continuing to provide safe and affordable homes for our resident members, as our brand of product quality, service and experience continues to lead in market share and performance," he said.
With vaccinations well underway, the April operational update points to "positive leading indicators" for housing demand in the REIT's largest market of Alberta. A population growth of 0.8 per cent, combined with low interest rates, improving sentiment in the energy sector, and steady news of companies choosing Alberta for their headquarters, has led to record home sales and a balancing of the housing market.
Additionally, the return to in-person learning at post-secondary institutions in September has further increased housing demand since the onset of the pandemic.
"Economic and rental market indicators continue to reflect Alberta's economic rebound, which is grounded on some of the most affordable and desirable housing in Canada as we transition to the endemic economy," Kolias said.
For the complete operational update, visit: Investors | Boardwalk REIT Webcasts, Distributions and Press Releases (bwalk.com)