WELL certification
Canadian Facility Management & Design
The Co-operators plans to pursue WELL Certification making it the first insurance and financial services company to target this certification for a new building in Canada.
Construction Business
Construction is underway for Okanagan College's new Health Sciences Centre. The state-of-the-art, $18.9-million facility is expected to complete in 2020.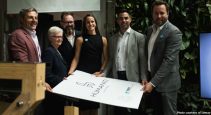 Canadian Facility Management & Design
HUMANITI, a mixed-use megaproject in Montreal, has registered to pursue WELL Multi-family Residential Certification for its residential component.