Waterloo
Canadian Facility Management & Design
Toronto, Ottawa, Vancouver, Montreal and Waterloo are deemed to provide the best dynamic for nurturing the workforce and fostering innovation in cost-competitive space.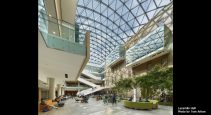 Canadian Facility Management & Design
Two buildings designed by Diamond Schmitt Architects have been recognized by WoodWORKS! for their use of wood in architectural designs.
Canadian Apartment Magazine
According to the Canada Mortgage and Housing Corporation (CMHC), Waterloo's new home construction market is shifting from single-detached homes to apartments. Moving forward, the CMHC says demographic changes will support this trend. The CMHC presented data to support this forecast at the annual CMHC Housing Outlook Seminar on November 25.