surface cleaning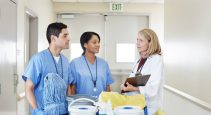 Facility Cleaning & Maintenance
Barley Chironda, an infection control specialist at Clorox, breaks down why cleaning staff should ramp up surface disinfection during cold and flu season.
Facility Cleaning & Maintenance
Health officials won't quite know what to expect until later this fall, but facilities should still brace themselves no matter what flu strain will spread.
REMI Network
The regular use of disinfectants could increase the chance of developing chronic obstructive pulmonary disease by nearly a third.