rent in Canada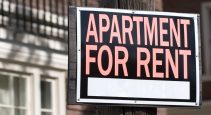 Canadian Apartment Magazine
New data from Rentals.ca reveals that average monthly rents for a one-bedroom apartment in Toronto continue to be the highest in Canada.
Canadian Apartment Magazine
Average rents for all property types in Canada have risen for third consecutive month as rental demand increases with the arrival of the prime spring leasing season.
Canadian Apartment Magazine
The median monthly rent across Canada increased nearly 6 per cent in January over December to $1,747, according to the February national rent report created by Rentals.ca and Bullpen Research & Consulting.