New data from Rentals.ca reveals that average monthly rents for a one-bedroom apartment in Toronto continue to be the highest in Canada, while Vancouver remains priciest for a two-bedroom unit throughout the month of October.
According to the latest National Rent Report, average monthly rents for Canadian properties in October was $1,940 per month, a decrease of 0.7 per cent monthly, but an increase of 5.5 per cent annually.
"Annual rent growth in Canada continues to exceed inflation," said Ben Myers, president of Bullpen Research & Consulting. "The national figures are propped up by hot markets in Ontario and BC, which are still suffering from a lack of new supply."
The median rental rate was $1,850 in October, up 8.9 per cent from a year earlier ($1,700). Toronto's average monthly rents edged up slightly to $2,320 to remain the priciest city for renters for a one-bedroom home, while Vancouver had the highest rents for a two-bedroom at $2,949.
Average monthly rents for all property types in Toronto hit $2,584 per month in October, 8.3 per cent higher than a year earlier. Overall rents have increased 4 per cent annually in Vancouver to $2,446 per month.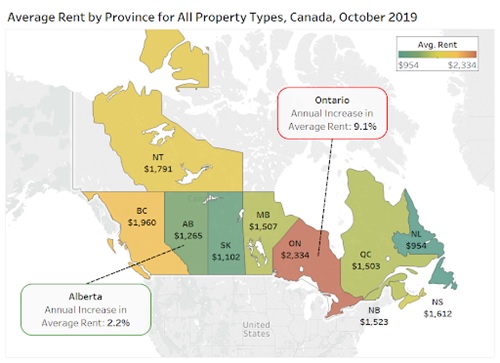 On a provincial level, Ontario had the highest rental rates in October, with landlords seeking $2,334 per month on average (all property types), unchanged month-over-month, but rising 9.1 per cent annually from $2,139 in October of 2018.
With near record levels of population growth in Ontario, a lot of residents are looking for apartments, and supply hasn't kept up. Through the first three quarters of 2019, there were 17,915 new apartment completions (rental and condominium tenure) in Ontario, the lowest level during the first nine months of the year since 2014.
Hamilton is experiencing high rental market appreciation at 24.4 per cent annually, followed closely by the former City of Scarborough at 24.0 per cent and London at 23.4 per cent. The four bottom markets are all in Alberta, with Red Deer seeing rents increase by 0.3 per cent, while annual declines of 2.1 per cent, 5.1 per cent and 8.0 per cent were experienced in Edmonton, Calgary and Fort McMurray, respectively.
Other takeaways from the new National Rent Report:
In Toronto, rental rates for purpose-built rental apartments only are up 16.1% annually, rising from $1,966 per month to $2,283 per month.
In the fourth quarter of 2018, about 13% of rental apartments in the former City of Toronto were listed from $2,200 to $2,800 per month. Over the last three months of 2019, that share has more than doubled to 28%.
Canada is really a tale of three markets, immense strength and tight conditions in Ontario and British Columbia, flat or falling rents in Alberta and Saskatchewan, and relatively stable conditions in the remainder of the country.
The average monthly price in Canada for rental apartments only was $1,574 per month in October, up 7.7% from the same month last year ($1,461).
Twelve of the top 16 cities on the list of 36 cities for average monthly rent for a one-bedroom are in Ontario and seven of the top 20 cities are in British Columbia.
Six Canadian cities had average monthly rents in October in three-digit figures: Gatineau, $969; Red Deer, $966; Saskatoon, $939; Lethbridge, $917; Quebec City, $882 and St. John's, $870.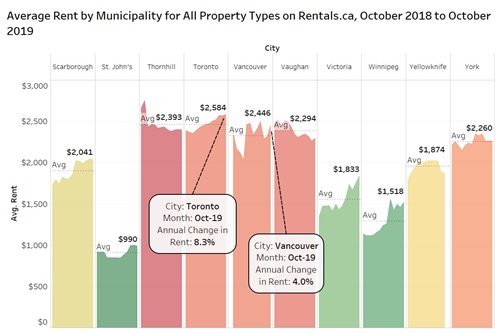 "There has been a noticeable decline in the number of affordable properties for rent in Ontario over the past year," said Matt Danison, CEO of Rentals.ca, "And areas that have typically provided less expensive rental accommodations such as Hamilton and Scarborough are experiencing the highest rent growth."
The National Rent Report charts and analyzes national, provincial and municipal monthly, quarterly and annual rental rates and market trends across all listings on Rentals.ca for Canada. The Rentals.ca numbers show vacated properties that better reflect current values. The figures better represent the actual rents a potential tenant would encounter when seeking to rent an apartment.