More than 400,000 homes and businesses were left in the dark after three tornadoes ripped through the Ottawa and Gatineau region on Friday, September 21, amid the evening rush-hour. Despite the devastation that led to dozens of hospital admissions and two critical injuries, remarkably, no fatalities were sustained in the catastrophic windstorms.
Investigators from Environment Canada have since confirmed that the first twister, an EF-3 on the Enhanced Fujita scale with winds of between 240 and 265 km/h, touched down in Kinburn, then tracked north-east to Dunrobin and across the Ottawa River into Gatineau Park and the Mont Bleu region. The second tornado, an EF-2 bearing wind speeds of 220 to 240 km/h, touched down about 90 minutes later, with a third smaller tornado touching down in Calabogie, Ontario, shortly thereafter.
In all, the rapid-moving storm system caused significant damage to more than 200 buildings accounting for 1,686 housing units, while obliterating 50 homes. Several communities looked like "war-zones" with downed power lines, strewn debris, torn roofs and overturned cars littering the streets.
By Saturday morning, Hydro Ottawa reported that 171,000 customers were still without power as a result of 200 outages "due to significant damage to both the local and provincial electricity grids."
Ottawa Housing accounted for fifteen of those affected buildings—home to 5,000 residents who were forced to spend the weekend in the dark. Like other facilities, the buildings relied on backup generators to keep elevators working and water pressure maintained to the upper floors.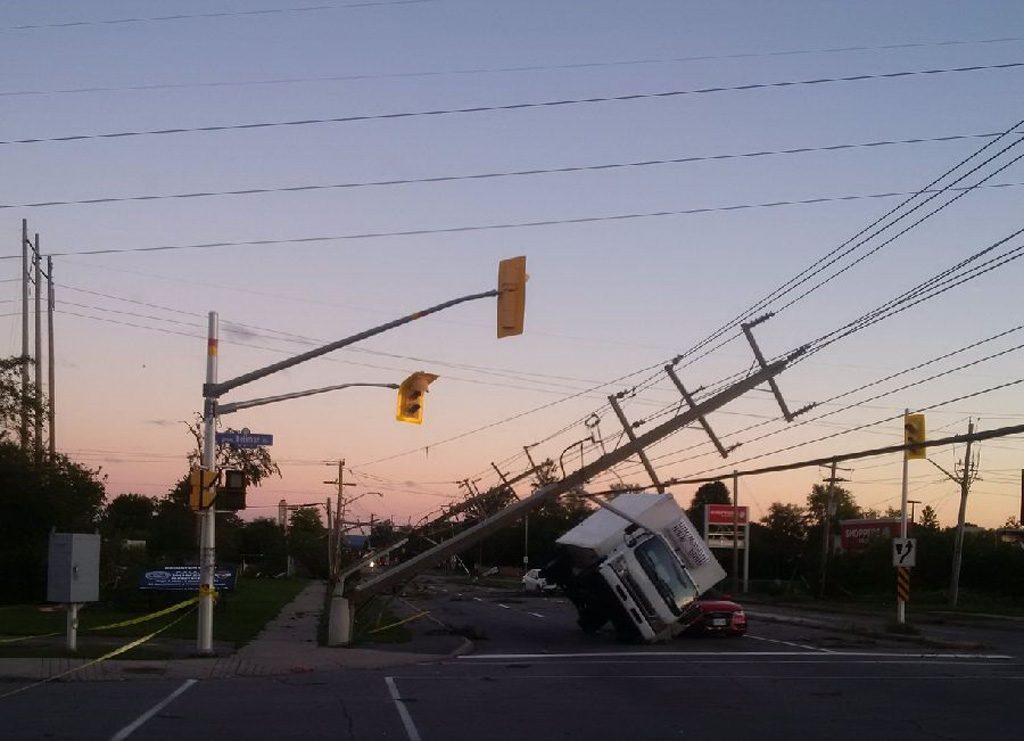 (Image: Ottawa Hydro)
Meanwhile, a thousand Hydro workers and utility partners have been hard at work since Friday repairing the remaining trouble spots.
To assist with recovery efforts, minimize road congestion and help curtail demand on the electrical grid, Dean Karakasis, Executive Director of BOMA Ottawa, noted: "The government helped by asking all federal employees to work from home on Monday."
Similarly, the Ottawa Catholic School Board and the Ottawa-Carleton District School Board also announced citywide closures, as "around the clock" efforts to restore power persisted.
By Tuesday morning, most schools, government buildings and city-run facilities had returned to regular service, and almost all traffic lights had been restored to normal operation. After the weekend's more dire warnings that residents should "brace for a multi-day power outage that could last until the end of the week," electricity has been restored for the vast majority of customers.
But as clean-up efforts continue, and dozens of displaced residents seek temporary shelter and donations in the form of food and clothing, a rainy forecast has many victims scrambling to salvage what little possessions they have left…and bracing for a long road to recovery.