Located in the trendy downtown west neighbourhood of Toronto, 39 Niagara is a high-end, mixed-use rental development set to open its doors in July, 2019. Comprised of 501 rental units and 22,000 square feet of amenity space, it is the embodiment of a young, hip lifestyle designed for discerning residents who want to stay connected to friends, their neighbourhood and the activities they hold dear.
Gone are the days when parking garages topped the list of urban necessities; today it's about wellness through green space, uninterrupted Wifi, rooftop lounges, and the convenience of living, working and playing in one attractive location: home.
"The construction of our purpose-built rental tower is poised to meet the demand for rental units given the city's record-low vacancy and rising home prices," says George Van Noten, Senior Vice President, Minto Properties Inc. "39 Niagara was imagined with young professionals and entrepreneurs in mind—urban singles who are active, social, immersed in the King West community and who appreciate great design."
As a demographic known for its tech-savvy, brand awareness and desire for work-life balance, Minto Apartments programmed the space and services at 39 Niagara specifically around connectivity and convenience. When complete, the building will offer everything from party rooms and fire pits to a luxurious rooftop swimming pool and an unleashed dog area, right on the premises.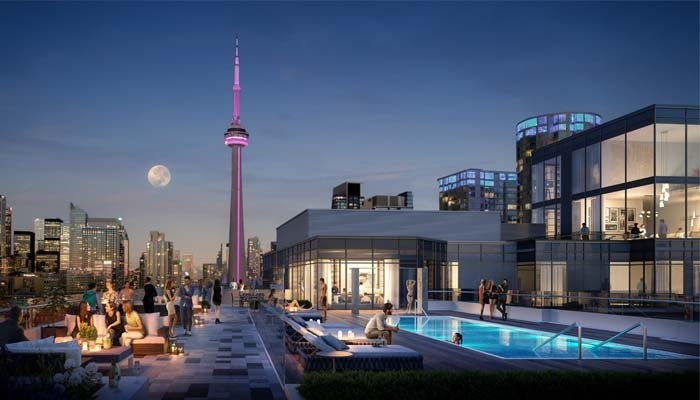 But don't expect the same amenity package to be offered at all of Minto Apartments' properties—each location tailors its features and services to the tenant-base it aims to attract.  "Our approach is persona-driven and varies from building to building according to our target demographic," says Van Noten. "In Oakville we are just finishing a purpose-built high-rise targeting students, and as such, we have programmed the space and amenities to better meet their value drivers."
That said, sometimes pinpointing one distinct tenant type isn't so cut-and-dry. Case in point is Minto Apartments'  1235 Marlborough, a 144-unit building with  state-of-the-art amenities designed for a broader mix of occupants—pets included.  Given its location in Oakville's College Park neighbourhood, home to Oakville Place Mall and several schools and hospitals, the property will fill a need for rental housing in a neighbourhood lacking in options. From Sheridan College students to young professionals and families with children, the building will offer a range of suite sizes and cater to one and all.
"Amenities will appeal to a mix of tenants," says Van Noten. "A fitness room with yoga space, indoor common area, lobby equipped with USB ports, an outdoor common area, quiet study rooms, bike racks, underground parking and an on-site resident services office will all be available."
Location: the basis for everything
Location and the surrounding neighbourhood are obviously huge determinants in who will inhabit a building, and Minto Apartments draws on its perceived tenant profile when making every decision, from architecture through to suite finishes. At 39 Niagara, for instance, knowing the building would be filled with young professionals with no cars and rooted in the downtown core meant connectivity needed to be at the heart of everything contained in its walls.
"While connecting with each other socially will happen on the rooftop sun deck, at the pool, BBQ area, and communal fire pit, connecting with fitness goals will happen in the yoga room, fitness centre and steam room," Van Noten points out. "On the work front, tenants will connect remotely in the building's business centre and board rooms. Connecting to comfort will come from the open concept floor plans and modern appliances, while connecting to the neighbourhood will naturally occur whenever they step foot outside."
Meanwhile, tenants can enjoy what the rest of the downtown enclave has to offer. Right next door is Minto Westside, a condominium comprised of 690 units spread across two towers and connected by a nine-storey podium. Made-up of a similar demographic, amenities on offer here include an outdoor swimming pool, several bars and lounges (both indoors and outdoors), the Movement Haus gym, and an outdoor fireplace. And then there's the rest of thriving downtown west…
While amenities have certainly flourished in the last few years—with bikes, fitness, pets, home delivery and technology rising in popularity and becoming central to what most high-end buildings offer—Minto Apartments hopes to stay ahead of the game as demographics shift and new trends emerge. But it all starts with location…and 39 Niagara sure has that covered.
39 Niagara resident profile:
– Approximate age: 25-45
– Status: Single/Couple/No children
– Work:  Monday through Friday,  9 to 5 full-time
– Leisure: Monday through Friday,  6 to 12, and weekends
– Transportation: Car to Go/Walk/TTC/Bike
– Food: Coffee/Artisanal/Organic /Handmade/Quality
– Activities: Drinking/Music/Dating /Eating out/Working out
– Shopping: Luxury Denim/Leather/Boutique Brands /Local Brands /Semi Casual
39 Niagara services and amenities:
– Full-service Fitness Centre with yoga room, sauna and steam room
– Media, Games and Party rooms
– Outdoor rooftop swimming pool
– Rooftop patio and urban garden
– BBQs and fire pits
– Pet amenities including unleashed dog area
– Concierge service 24 hours daily, and more