New data from Altus Group, Morguard, and Rentals.ca show a slump in apartment sales and declining rental rates as we ease our way down the uncertain road to recovery.
Looking back at March transactions, sales of purpose-built rental apartments were down by almost half from February on a combined basis for most major Canadian markets. Although nationally sales were up slightly in April, Altus Group reports that this was largely due to one sizable transaction worth $300.2 million, consisting of three properties in Hamilton, Cambridge and Kitchener, for a total of 750 units.
"The COVID-19 pandemic has caused many larger rental investors to delay or postpone buying decisions that had already been made, and many others are reviewing their investment strategies," the June report said. However, according to Altus Group's new Key Assumptions Survey, one in three investors see this as "a good time for opportunistic buying."
As of April, the top risks perceived for rental market fundamentals are impacts to consumer demand as a result of job losses and hits to income. Another factor, according to Altus, is the potential impact of lower immigration throughout the pandemic, with some regions across the country more heavily impacted than others.
Keith Reading, Director of Research at Morguard, concurs with these observations. "Sales activity has slowed significantly since the March outbreak began," he said. "Despite healthy rental market fundamentals investors are still concerned about the near-term and the ability of tenants to pay rent."
In the meantime, managers of rental properties are focusing on the health and safety of their residents and staff. "As clarity with regards to the economic outlook increases over the next several months, investors will once again return to the market and drive activity levels higher," he said.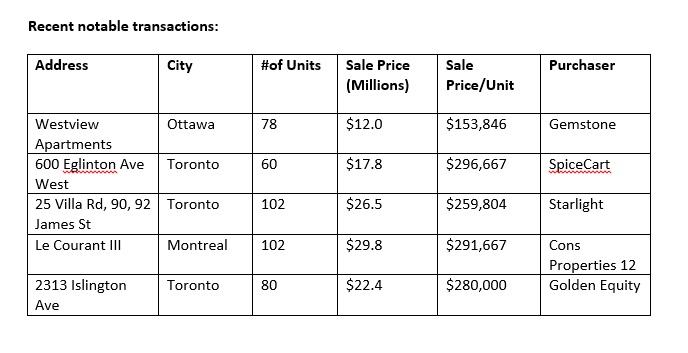 Average rents
As for rental demand and monthly rental rates, new data from Rentals.ca shows that the average monthly asking price for all property types in Canada was down 1.4 per cent in May over April, and 7.2 per cent overall from its peak level in September. This is the third consecutive month rental rates have been on the decline.
"Tenants have been more dramatically impacted by pandemic-related job losses than homeowners, and are not currently looking for apartments or other rental accommodation," said Ben Myers, president of Bullpen Research and Consulting. "This sharp drop in demand has resulted in landlords lowering their asking rents in most major markets across the country."
The average rent for apartments in Toronto declined by 0.5 per cent in May to $2,290 per month, following a 5.9 per cent monthly decline in April. Rents were also down in Winnipeg, Montreal and Victoria.
But some markets saw an uptick in monthly rents – including London (up 2.9 per cent) and Edmonton (up 1 per cent) – in May over April, when both cities registered declines of 11 per cent.
Apartment searches
Despite the ongoing effects of the pandemic, tenant searches are on the rise with pageviews for listings on Rentals.ca having increased for the third consecutive month since March.
In terms of regions drawing interest, the firm Local Logic observed that Canadians are beginning to expand away from city centres and include markets further afield. "We captured an increase of 24 per cent in commute distances by car in Montreal," said Guy Tsor, data scientist at Local Logic. "And a 19.7 per cent increase in Toronto in a span of just two months from users looking for a new house or apartment."
"Toronto searchers who use public transit have shown a 33 per cent increase in how far they are willing to commute compared to March," added Vincent-Charles Hodder, CEO of Local Logic. "Possibly because of the pandemic, people are now willing to live a bit farther out of the centre, to avoid higher density areas."
Other key takeaways from the June National Rent Report:
Condo apartments experienced the steepest decline, with average rents offered by private investors falling by 9.4 per cent year-over-year.
The average monthly rental rate in Ontario was down 0.6 per cent monthly, while Saskatchewan was down 1.1 per cent and Quebec was down 1.9 per cent. But rents increased in May over April in Alberta, Manitoba and British Columbia.
In downtown Toronto, the Entertainment District, Cityplace and King West saw average monthly rents come down a reported $118 to $2,630 from January to May
 Per-square-foot rent for units from 400 square feet to 800 square feet have declined by 8 per cent to 14 per cent annually in Canada, while units from 900 square feet to 1,500 square feet have declined by between 3 per cent and 8 per cent annually.