Spanning four city blocks and anchored by over 1.85 million square feet of residential space, Grand Central Mimico is a transit-tailored, mixed-use community coming soon to Toronto's west end. Envisioned by majority owner Vandyk Properties and brought to life by award-winning architects long before COVID-19 reared its head, the new master-planned neighbourhood promises an all-inclusive experience—all grounded by the Mimico Go Station, enabling residents a connected, car-free existence.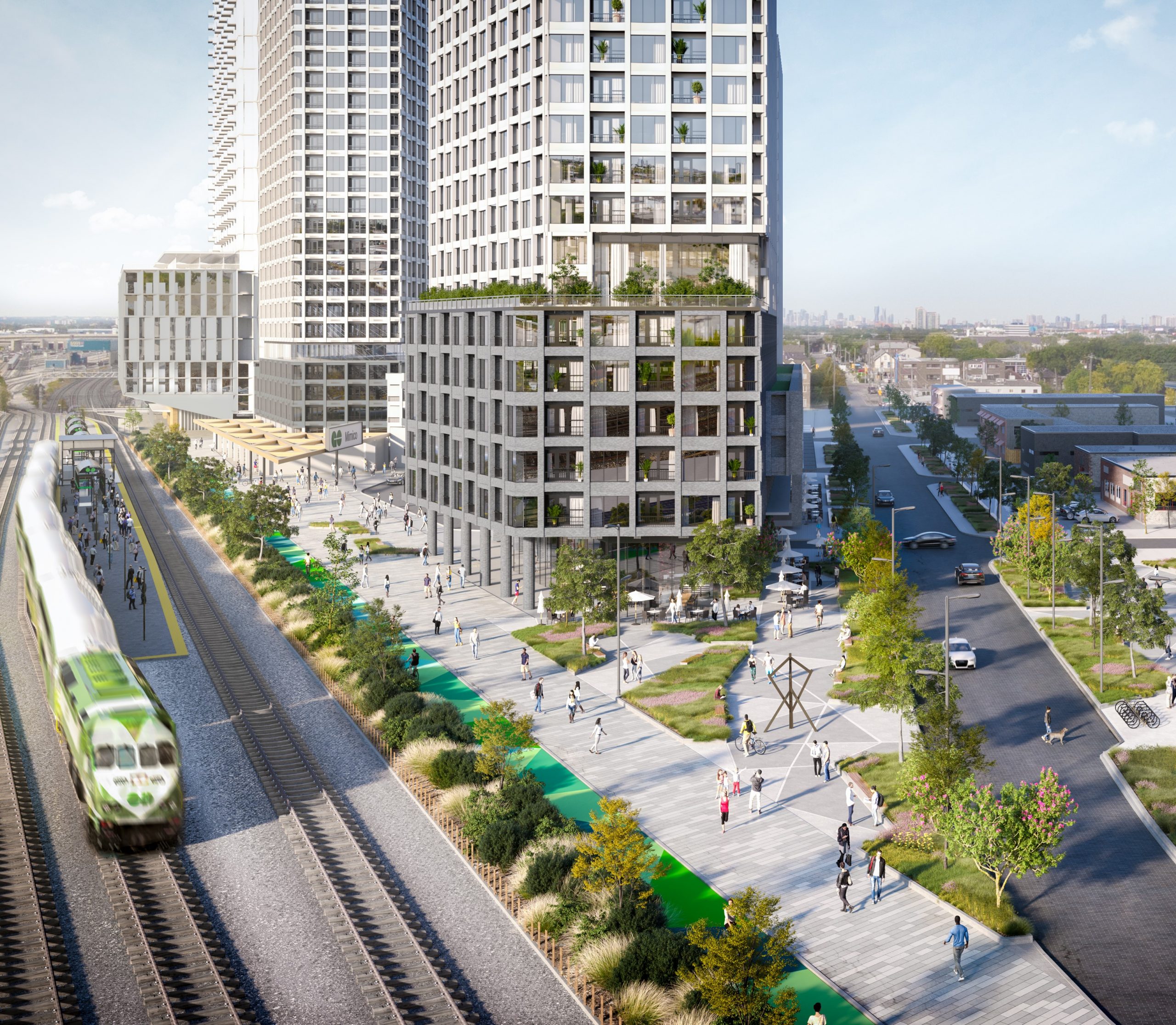 "We thought the term 'future-proof' would best describe the Grand Central Mimico development," says John C. Vandyk, President and CEO. "Since the beginning, we have ensured that the transit-oriented property will continue to be of use and thriving as time goes on, and that it will continuously be able to adapt to environmental changes and factors. From the landscaped plaza, pathway planter boxes and permeable pavements, to the green streets, green parking and green roofs, Grand Central Mimico will create a sustainable and resilient environment."
Aside from its sprawling green spaces and numerous public amenities, Grand Central Mimico will feature touchless technology throughout the mixed-use buildings—something certain to appeal to the post-pandemic resident.
"We have implemented the Vandyk Smart Connect, an innovative technology system that promotes a touchless environment, limiting opportunities for disease transmission and health concerns," Vandyk says. "Our developments and communities are also built to have multiple access points as well as outdoor spaces, allowing people the opportunity to enjoy the outdoors in a socially distanced capacity. We took into consideration that many of us will be working from home on a permanent basis, or using a more flexible, hybrid model—which is why we included an indoor and outdoor co-working space as part of our amenity offerings."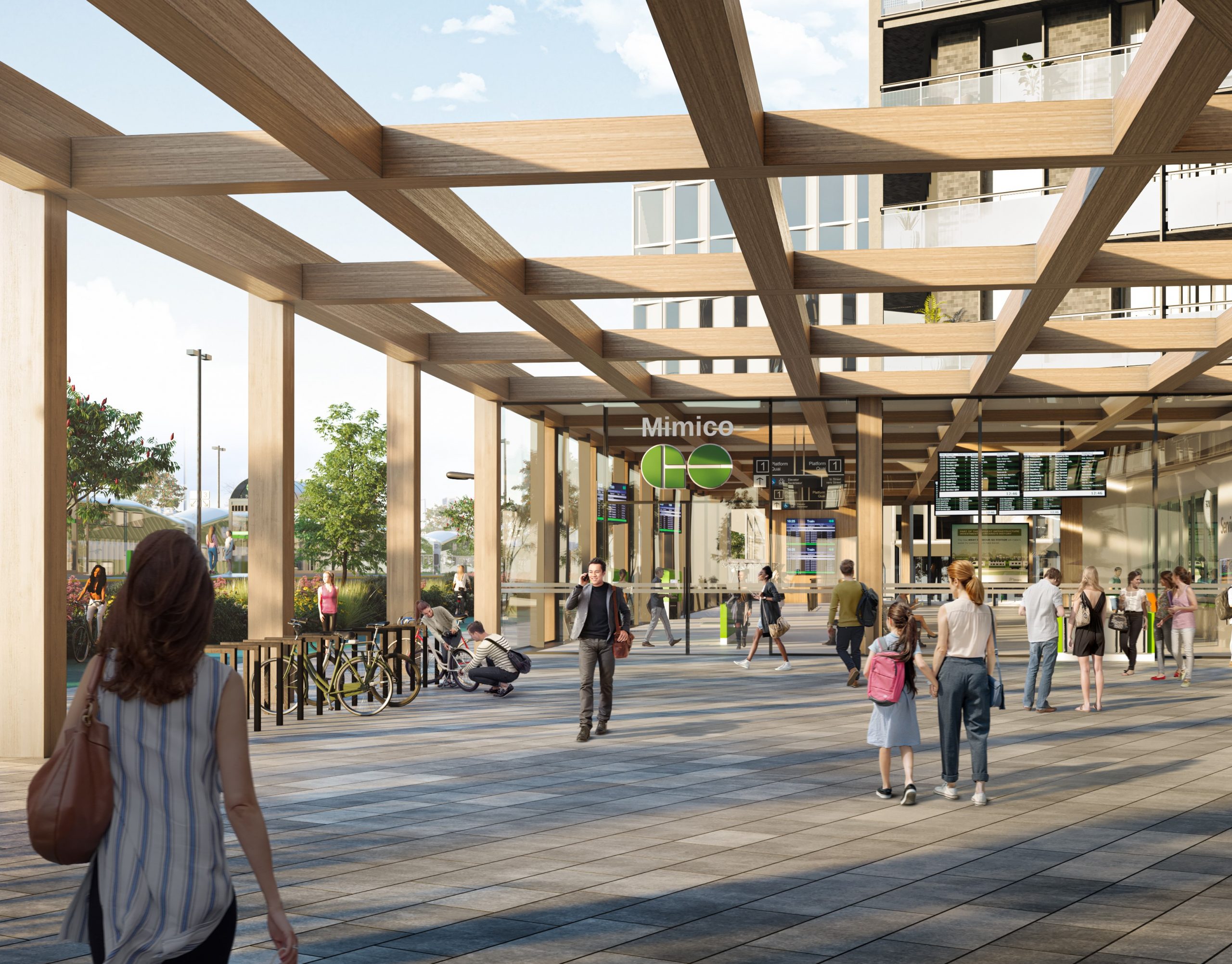 Additionally, connectivity and accessibility will be present at its very core. Situated at the Mimico Triangle, a 55-acre site that has been deemed as a priority Regeneration Area by the City of Toronto, the project includes the first signed, binding agreement between Metrolinx and a private developer. From this agreement, Grand Central Mimico will see a new modern reconstruction of the Mimico GO Station with integrated access points to several of the new buildings, connecting residents to downtown Toronto and the future Ontario Line.
"Grand Central Mimico is truly a one-of-a-kind development in the GTA that factors in the importance of accessibility to public transportation, especially as more and more of us begin to favour easy and hassle-free commuting," he says. "Connectivity at Grand Central Mimico is also about being connected more locally and on a pedestrian and cyclist capacity. The development will include construction of a future 1.25-kilometre greenway at the southern edge of the site, which will connect west to Judson and east to Mystic Pointe."
Unique affordable housing component
According ot Vandyk, incoming residents looking to buy may also benefit from a unique affordable housing component. As this development is still ongoing, there are intentions for rental units, but how many and in what form is still uncertain.
"To further reinforce our commitment to making this community accessible for all, we have created the Vandyk Start Program, which is a Home Ownership Assistance Program designed to help eligible purchasers reach their dreams of home ownership," says Sherman Chan, VP and Managing Director of Vandyk Properties. "The program reduces upfront deposit requirements, features an extended deposit structure over 540 days, and includes an interest-free, payment-free loan funded by the City of Toronto, reducing the resident's mortgage carrying costs."
Sense of community
In the wake of COVID-19, resident preferences have shifted with more evidence supporting the fact that people no longer want just a suitable home to live in, but a community to settle into.
"People are looking for a connection beyond their homes," says Sherman Chan, VP and Managing Director of Vandyk Properties. "Grand Central Mimico is equipped with amenities that can provide a sense of community to the residents."
Featuring a variety of public gathering and entertainment spaces including a social club, a co-working space and a wellness centre, residents of Grand Central Mimico can easily stay connected with their greater community or remain at a social distance if desired or required.
"The Buckingham residential tower features a 20,000 square-foot outdoor terrace," says Chan. "Developed strategically to be connected to nearby green spaces, Grand Central Mimico is in close proximity to Grand Avenue Park, which is known for its active sports field, splash pad, skate park and picnic areas. We also developed a number of mixed-use spaces, including business and retail spaces, allowing residents to only be a few steps away from local shops, restaurants and other essential and non-essential businesses."
The Buckingham also features what Chan describes as a "unique and state-of-the art" social club complete with two fireplace lounges, a sports lounge, a virtual golf simulator, several movie theatre rooms, and ample dining space. Meanwhile, the wellness centre is fully equipped with a gym, a yoga studio, a steam room, massage therapy rooms and a lounge. Individually, the residential towers will each offer a landscaped terrace complete with seating areas, a cabana lounge, fire pit lounge areas, barbecue stations and al fresco dining.
"Grand Central Mimico is also comprised of mixed-use space, anchoring the property development with a grocery store, retail shops and over 50,000 square feet of office space," Chan says. "All this to say, it's a community equipped to thrive."
If the pandemic has taught us anything, it's that predicting the future is not always easy, but preparing for it is necessary to ensure resilience in an uncertain world.
To find out more about Grand Central Mimico, visit: grandcentralmimico.com